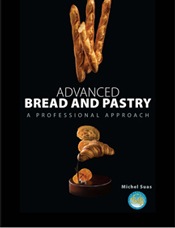 Today I started the professional baking program at the San Francisco Baking Institute. For the next six months, I will spend six hours a day allowing the good and talented people there to mix, ferment, shape, proof, and bake me into the best baker I can be. I will be drilled on dough, tutored on tarts, coached on chocolate, lectured on lamination, guided on gateaux. (Yes, that's right. I am paying good money to be forced to bake a cake. And they are breaking out the ice skates in Hades.)
Now if you're anything like me, you may be thinking, how nice for you, Susan, but what is in this for me?
What's in it for you is a chance to win my textbook. Because I already own a copy of the excellent Advanced Bread and Pastry by Michel Suas (SFBI's founder and president, by the way), my first-day-of-school-issue copy is up for grabs.
Interested? Of course you are. If you live in the US (sorry, my international friends, but this thing is damn heavy and I'm springing for the shipping), leave a joke here in the comments by 11:59 PM on Friday, September 18. I'm asking for a joke because I will need something to laugh about after springing for the shipping on this book.