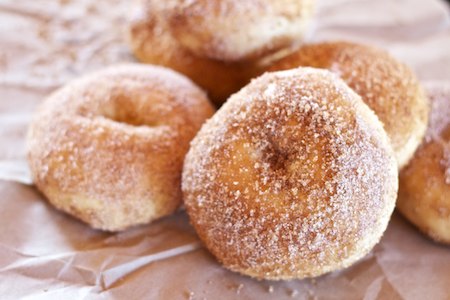 Some people keep lists and calendars to remind themselves of food holidays: National Raisin Bran Cereal Day, International Nacho Day, Lobster Thermidor Day, and so on. I prefer to keep track of these things the way nature intended: by taking a morning peek at Facebook and noticing doughnuts everywhere. Doh! It's national Doughnut Day! I was caught off-guard, but it was early in the day so I had time to recover.
I made baked yeasted doughnuts that you can really sink your teeth into. If you like those soft, lighter-than-air Krispy Kreme things, don't make these. These are to those what Guinness Stout is to cotton candy (it's also National Mixed Metaphor Day, by the way).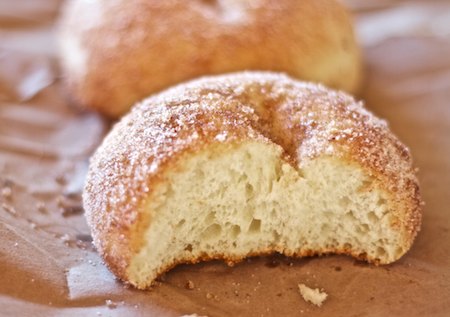 I didn't have access to a stand mixer today so I started these mixing in the food processor and finished up by hand. I also couldn't find anything to cut out holes with, so instead of the more traditional roll-and-cut-out method of shaping, I simply formed balls, poked holes in them and stretched them out. They looked a little sloppy at first, but evened out during the bake.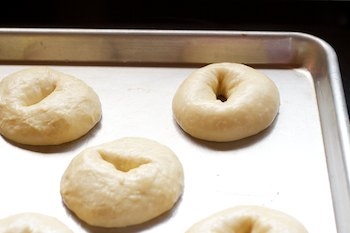 Yeasted Baked Doughnuts
Yield: 8 large doughnuts
Time:
Mix: 10 minutes
First fermentation : 3 hours, with a fold at 1.5 hours
Divide, rest, and shape: 30 minutes
Proof: 1.5 hours
Bake: about 20 minutes
Dough Ingredients:
350 grams flour
182 grams milk, lukewarm
53 grams (1 large) egg
30 grams butter at room temperature
3 grams (1 teaspoon) instant yeast
4 grams salt (2/3 teaspoon)
75 grams sugar
Topping Ingredients:
4 tablespoons (1/2 stick) butter, melted
sugar mixed with spices of your choice, to taste (I used a mixture of cinnamon, nutmeg, and coriander)
Method:
Combine flour, milk, egg, butter, yeast, and salt in the bowl of a food processor.
Process until the ingredients are incorporated. The dough will still seem fairly stiff at this point.
Add the sugar in three or four increments, processing for several seconds after each.
Continue processing, or mix by hand on the counter, until the dough is smooth and elastic. (My processor's motor warmed up and stopped periodically during this process, so I finished by hand.)
Ferment the dough in a lightly-buttered container at room temperature for 3 hours, folding the dough after 1.5 hours.
Divide the dough into 8 pieces of 75 – 80 grams each.
Form each piece into a ball by lightly cupping it under your hand and rolling it in a circular motion on the unfloured counter.
Cover the balls lightly with a cloth and let them rest for 20 minutes.
With lightly-buttered fingers, poke a hole in the center of each ball and stretch it to a doughnut shape. Place the doughnuts on a parchemtn-lined or buttered baking sheet.
Slip the baking sheet into a large plastic bag. Proof for 1.5 hours, until the indentation left by a light finger press springs back slowly.
Meanwhile, preheat the oven to 375F.
Bake just until barley starting to brown, about 15 – 20 minutes.
While the doughnuts are baking, melt the stick of butter and prepare your sugar/spice mixture to taste.
While still hot, brush the doughnuts with butter and roll them in spiced sugar.