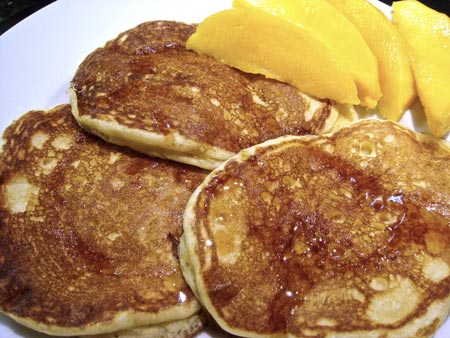 Today is Pancake Day, so this might be a good time to post my favorite sourdough pancakes, the only pancakes I ever make any more. My photo does not do them justice; anyone who can enlighten me about how to get pancakes and syrup to sit still for the camera, please speak up.
Also, anyone who can offer a plausible explanation for why every pancake recipe under the sun makes exactly 14 pancakes will win a prominent place on my list of culinary geniuses.
For the lightest pancakes, fresh mature starter is the best, but I have used refrigerated, several-days-old starter for up to 50% of the total. Pure Vermont maple syrup makes everything good.
Sourdough Pancakes
(Adapted from Breads from the La Brea Bakery by Nancy Silverton.)
Yield: 14 pancakes
Ingredients:
511 g mature 100%-hydration sourdough starter
2 T. maple syrup or maple sugar
2 T. vegetable oil
2 eggs
1/2 t. salt
1/2 t. baking soda
1 t. baking powder
Very Complex Method:
Whisk all ingredients together.
Cook on a hot buttered griddle, about 1/4 cup batter per pancake. Flip when bubbles appear.
Filed in recipes • Trackback URI

Print with or without images
Comments Feed
Jeremy on February 24 2009 at 07:28 pm:

Do you ever do buckwheat? Blueberries are awesome too!

Karin on February 24 2009 at 07:33 pm:

Hm, I've never tried adding maple syrup to the mix! Thanks for the tip; and here's another variation in return. If you feel that way inclined, you can make a light, not-quite-fluffy sourdough pancake.

Separate the eggs, and use the yolks in your mixture. Whip the whites to soft peaks, and fold them into the pancake batter.

This doesn't affect the taste of the pancake, just the texture. Sometimes a sourdough pancake can be quite heavy, which I don't like (though some do!).

elra on February 24 2009 at 09:15 pm:

That look really fluffy and delicious.
Cheers,
Elra

Virtual Vermonter on February 24 2009 at 09:52 pm:

Definitely blueberries, and of course, definitely VT maple syrup. Even though the price has apparently been going up, sigh. Thanks for the recipe!

Zita on February 24 2009 at 10:00 pm:

14 is a good number (like my birthdate…;) )

But sourdough pancakes with maple syrup are even better than a good explaination

Marjoke on February 25 2009 at 01:00 am:

I love using my sourdough and pancakes so this is the recipe for me. A nice recipe for our sunday breakfast.
Thanks.

Nurit - 1 family. friendly. food. on February 25 2009 at 08:01 am:

oh, I so envy all of you who have a sourdough starter .

Phoo-D on February 25 2009 at 08:12 am:

I've been working on perfecting sourdough bread, but these pancakes would be a nice change of pace for my starter!
Phoo-D

Elyse on February 25 2009 at 09:16 am:

You know, I was thinking about making some sourdough (living in San Francisco, I feel like I have no excuse not to), but after seeing your post, I want these pancakes instead! I think you're too modest about those photos: I'd be happy to sit down to a plate of those pancakes drizzled with maple syrup. YUM!

Laura on February 25 2009 at 04:14 pm:

ohhh.. yummmmm…. I love pancakes.

I have a theory on the picture thing because I too have struggled with photographing pancakes–you have to create an impossibly high stack of the whole batch (which means you have to let them sit in a warming oven) and then let the butter and syrup and ooze down the sides. Since anyone planing to actually eat their pancakes would never do this, pancake photos usually are not as nice.

Bruce on February 25 2009 at 05:24 pm:

Nice touch! I have been making a similar recipe using sugar for the maple syrup for 9 years virtually every weekend (my kids are sick of them!). My usual variation is to add a couple of tablespoons of Uncle Bob's 7 Grain Cereal and blueberries. Of course a good maple syrup is required! It took me more than 7 years to branch out to sourdough breads and only in the last few months to find your great website!

Jude on February 26 2009 at 12:03 am:

I consider myself a googling expert but couldn't find anything about the 14 pancake thing. I've got some experts on it http://tinyurl.com/dbwodv

Claire on February 26 2009 at 04:12 am:

Hi susan

I've made these pancakes this morning. I had never tasted pancakes that good. These are amazing…

I realised at the last minute I didn't have baking powder. I stuck to the 1/2 t baking soda, and they turned out great!
I also used about 80% of whole wheat flour in my starter which gave them a nice nutty flavour.

Tonight, I think I'll feed my starter with a blend of 6 cereals and 4 grains to try them tomorrow morning. And, if I'm not too lazy, maybe I'll add a cup of diced caramelized pears in the batter. I can't wait…

It's my first comment here. I've been reading this blog for a couple of weeks now. It's thanks to you that I don't buy bread anymore. Your norwich sourdough is so easy to make it's ridiculous
I'm french and I live in France but I can tell you I have never eaten bread so good. And it's not just me. All my family and friends say so.
But I have to say that I'm a bit angry at you for not posting the recipe for these pancakes sooner. I can't believe what I've been missing.

Well thanks again for all these brilliant recipes. You're an inspiration.

Claire

kellypea on February 26 2009 at 09:05 am:

Pancake Day? Jeez. I miss out on everything. And come to think of it, our resident pancake maker hasn't made any in a while. Sourdough is my favorite type of bread, but I haven't had sourdough pancakes. Loving the maple syrup IN them. Yummy!

Hillary on February 26 2009 at 12:05 pm:

I like the idea of sourdough pancakes – sounds savory and delicious!

Natashya on February 26 2009 at 01:47 pm:

Mmm, I have never made sourdough pancakes – great way to use the toss off. (although that phrase always sounds dirty to me…)
They look wonderful!

Nate on February 26 2009 at 02:34 pm:

Looks good! I've always been partial to Maine Maple, Grade A Dark Amber. As for your pictures, try setting your camera to "macro" and taking a low and close shot. Food always looks tastier when you can see the texture (and pancakes/waffles always look better when you can see the butter melting!)

James on February 26 2009 at 08:42 pm:

I can't wait to try the pancakes this weekend. I've been thinking about them everyday since I got this earlier this week. Yummmmmmmm

lisaiscooking on February 27 2009 at 06:48 am:

I've just started working my way through the La Brea book and made a starter for the first time. Your pancakes look great! Can't wait to try them.

purplesque on February 27 2009 at 07:27 pm:

Just an idea..stack the pancakes on top of each other, drizzle the syrup only on top and shoot a few as it dribbles down. (Solid butter on top may look good but I've never had melting butter photograph well.)

I am So dying to make these.

Ajonjoli on February 28 2009 at 11:17 am:

Hi!

I made them this morning, wonderful recipe!!!!!
I did as Karin suggested, and put the yolks with the rest of ingredients and whipped the whites apart, then mixed everything.
They were so good and so easy to prepare, thanks!!!!!

Marjoke on March 1 2009 at 04:03 am:

Just baked your sourdough pancakes and they were perfect. Easy to make, good taste and they stayed airy even without whipping the egg whites.
This was a nice way to use my starter for something else than bread

AZBreadman on March 3 2009 at 11:03 am:

Part of my life's mission has been to find the perfect pancake. My long time favorites have been at Dupar's in Los Angeles and the Fortyniners at The Original Pancake House in Scottsdale. I substituted two T of melted butter for the vegetable oil in your recipe. The result was great!
Thanks Susan.

James on March 8 2009 at 01:01 pm:

I love this recipe and it makes great use of starter that is left over from bread baking. Today for brunch I made them with some whole wheat flour added to my starter and then cut up bananas and mixed into the batter.

The toppings served with the pancakes were a mixture of butter, honey and real maple syrup that is served warm and also a reduction of strawberries, brown sugar and tequila that is also served warm.

Everyone loved them. Yummmmm

Barry on March 11 2009 at 08:37 am:

This is a brilliant recipe – I've never tried making American style pancakes before. Here in Britain the French style crepe is more common on Shrove Tuesday but these were so light and delicious. Thanks Susan!

Natalie on March 15 2009 at 11:02 am:

Hi Susan – I wanted to introduce myself… I'm the other half of Humble Bread. Henry's talked so much about you so I wanted to finally meet you as well

I have to tell you – today I finally made sourdough pancakes using this recipe and they were AWESOME! I've never been a pancake maker – meaning, my pancakes have never been so light and fluffy. This morning, on the other hand, was the 1st time EVER that i LOVED the pancakes I've made. Maybe knowing they were made from our own levain added that little special something my pancakes always lacked

We are baking in our wook oven today and I used the sourdough feeding waste for the batter. It was much nicer using this bi-product then throwing all that loveliness away. Thanks for the recipe… Nat

drfugawe on April 20 2009 at 08:23 am:

Ohhh, … these are magnificent! I let my "waste" sourdough build over two days to get enough sourdough for this – and must admit that this is much better than adding sourdough at the last minute, as I've done in the past. I love the wonderful, glutinous texture of this mix – a fantastic recipe.

Thanks much, Susan.

Tortitas de masa madre - sourdough pancakes | Cocinar on May 11 2009 at 12:53 pm:

[...] he adaptado de una que encontré en el blog Wild Yeast (podéis ver la receta original, en inglés, aquí), y a partir de ahora va a ser desayuno obligado en casa (ya lo sabéis aquellos que vengáis de [...]

Phoo-D on May 22 2009 at 06:04 am:

These were delicious! What a great way to use up extra starter. Thanks for posting the recipe.

Tortitas de masa madre – sourdough pancakes « Madrid Tiene Miga on July 13 2009 at 03:49 am:

[...] he adaptado de una que encontré en el blog Wild Yeast (podéis ver la receta original, en inglés, aquí), y a partir de ahora va a ser desayuno obligado en casa (ya lo sabéis aquellos que vengáis de [...]

BBQN on October 27 2009 at 06:24 am:

Can you give me a little assistance on the amount of sourdough starter to use. 511 grams is a weight measure that I estimate to be about 20-some ounces. But I'm not sure if that would translate into about 2 1/4 cups when I dip it out of my starter. Any helpful advice? I'm anxious to try this! Thanks!

Rachelle on November 1 2009 at 06:23 pm:

I made these for a post-halloween brunch today and haven't been able to think of anything else all day. They were incredibly light and airy, and the billions of bubbles sucked up every last drop of maple syrup (pure quebec here). I want to eat these everyday times 3!


WMR on December 1 2009 at 11:57 am:

Re: how to get the nice photo:

Use honey cooled in the fridge instead of syrup.

Kelly on December 17 2009 at 10:34 am:

This has been my go to pancake recipe ever since I found it. Even replacing my old simple scratch recipe that was the household favorite. When I found out my daughter is sensitive to eggs I tried a bunch of different egg free recipes and even tried replacing the eggs with flaxseed meal. They just didn't really go over. So I thought I'd try this recipe without the egg… Still perfection! The most light, fluffy, melt in your mouth pancakes and my daughter requests them almost daily. Of course they don't spread as much so I have to cook them a little slower to get them done perfectly, but no other recipe has come through like this one. With or without eggs. THANK YOU!

Genise on March 23 2010 at 01:42 am:

These pancakes were awesome. I went on a sourdough cooking spree (first day cooking with it, used 871g of sourdough today, I gave it a workout). I cooked them, they were awesome. I think I'll try them again when my last feeding of my starter has rye in it. I'm really beginning to favor rye in my starter at all times. Oh and I am using your starter recipe, thank you again.

Jade on April 24 2010 at 07:25 am:

Try ice cream on your sourdough pancakes! Traditional syrups and such are great, but go for the unconventional…kids and adults love it.

Jade on April 24 2010 at 09:03 am:

For what it's worth, on allrecipes.com, you can manipulate and calculate amounts translating from American measurements to metric and vice versa.
So, 500 g = 1-1/2 cups

Rich on May 4 2010 at 05:54 pm:

Re: Phood Photos…everything has to be COLD. Sorry, but all the food you see in still photos and most of what you see on TV are stone cold. Maybe room temp but probably refridgerated. The "steam" is fake. That's why the syrup runs thick and slow.

Sam on May 6 2010 at 10:53 am:

Since my partner is gluten intolerant and I was making these just for me, I halved this recipe and used it to make waffles this morning. Found it from a link in a thread yesterday on Fresh Loaf. I added cinnamon (.5 t), cardamom (.25t), and vanilla (1t) for some extra flavor.

My partner didn't suffer though as she had chocolate muffins made with a mixture of 5 GF flours, quinoa, pumpkin seeds, and raisins, plus similar spicing that I made late last night for her breakfast. :<)

Sam

Eve Rich on July 28 2010 at 11:24 pm:

I let my batter to stand overnight to let the starter to work with added flour. Nest day add the eggs and sugar, no baking powder or soda, I want to keep it sourdough only, it is healthier and easier to digest (baking soda is not healthy to eat, that's why I started to eat sourdough only). A whipped egg white makes it more fluffy so I add it to pancakes, waffles or cakes I make with sourdough. Try it yoruself.

Larry on October 16 2010 at 03:15 pm:

I havent had a good starter yet? I heard about one where you use milk for the starter and no yeast. And never use a plastic bowl or anything metal? But is there a starter that you dont have to buy?

Larry

Mike on November 9 2010 at 07:23 am:

@Kelly, my daughter is also sensitive to eggs (actually it's an anaphylactic allergy), I always make these pancakes with "egg replacer" which I buy at the grocery store. The egg replacer says to use it with water (1 T egg replacer + 1/4 cup water = 1 egg), so that thins out the pancakes and they cook pretty normally. The egg replacer works great in muffins too, and in some kinds of cake. (Ingredients: Corn starch, potato starch, soy flour, baking powder, guar gum)
A box is around $4 here … might seem a bit expensive but it's way cheaper than the 50 or so eggs it replaces!!

Mike on November 9 2010 at 07:25 am:

Forgot to mention, I'm amazed at how well these pancakes keep … I just ate one that had been in the fridge for 8 days and it tasted delicious. Just a tiny bit dried out but barely noticeable.
Of course, you have to reheat it on a pan, using the microwave ruins the flavour.
(Note: as per above, I don't use eggs, so that may affect the keeping quality??)
-Mike

John on November 15 2010 at 06:19 am:

My family likes waffles – is there a way to convert this recipe to waffles instead? Do you just use the same ingredients?

Susan on November 16 2010 at 09:00 pm:

John, sorry, I know pretty much nothing about how to make waffles, but if I were going to try I'd probably start by seeing how this batter behaves in a waffle iron.

Phoo-d » Sourdough Dinner Rolls on December 6 2010 at 12:01 am:

[...] that upside is an ample amount of vigorous sourdough starter ready to be made into rolls, bread, pancakes (I have made these no less than 20 times- they are my absolute favorite!), or anything else you can [...]

Dwight on August 24 2011 at 07:17 am:

Susan,

Do you know why virtually all all sourdough pancake recipes seem to also use chemical leaveners?

Do you think it could be that even a properly ripe starter, given all the time necessary, still may not produce the ideal, light and fluffy pancakes?

Sulpicia on March 6 2012 at 05:02 pm:

These pancakes are fantastic! Thank you so much. I also made waffles from the same batter (although I added a tiny bit of skim milk to make them a little easier to pour into the waffle iron) and they were delicious as well. Thanks!

Kee on January 6 2013 at 03:21 pm:

Hi,

I just made a sourdough base, and I am looking forward to trying out your recipe soon! I am struggling to figure out the conversion of 511g sourdough base to how many cups. I know the base is more dense than water, but I do not know if this difference is significant enough to alter the recipe? Any idea how many cups 511g of your base would be? Thanks!

Sourdough pancakes | mrgrumpychef on August 31 2013 at 11:41 pm:

[...] Taken from Wildyeastblog [...]

Everything is going to be super duper | Eating on a Napkin on November 8 2013 at 08:38 pm:

[...] pancakes recipe from Wild Yeast Blog recipe yield about 14 [...]

Saturday Linkages: Sad Cookbooks, Pancakes and Tiny Homes | Root Simple on January 11 2014 at 05:00 am:

[...] Another take on sourdough pancakes http://www.wildyeastblog.com/2009/02/24/sourdough-pancakes/ … [...]

????? seo on February 4 2014 at 07:24 pm:

It's very simple to find out any matter on web as compared to books, as I found this
post at this web site.
Post a comment