In class last Friday, we mixed three doughs. These gave us plenty of opportunity for the all-important hands-on baguette practice, of course. They also illustrated the relationship between mixing time (and corresponding level of gluten development) and fermentation time, and the effects that these parameters have on the bread.
(These are my very own baguettes. You can see that my shaping and scoring needs work. And as the middle one clearly indicates, I cannot count to six.)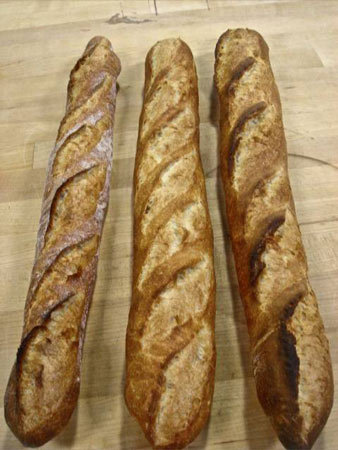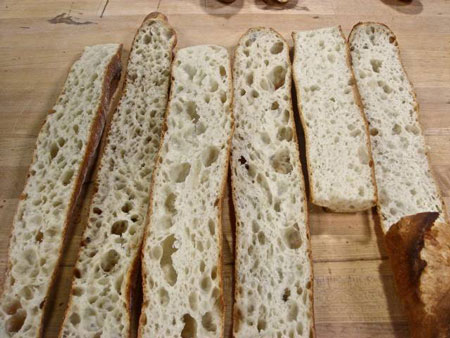 Let's compare these babies, shall we?
| | | | |
| --- | --- | --- | --- |
| | Left | Center | Right |
| Dough Parameters | | | |
| Level to which the gluten was developed on the mixer | low | medium | full |
| Bulk fermentation time | 3 hours | 1.5 hours | 20 minutes |
| Number of folds during bulk fermentation | 3 or 4 | 1 | 0 |
| Amount of instant yeast (weight relative to flour weight) | 0.2% | 0.6% | 0.8% |
| Hydration (water weight relative to flour weight) | 72% | 68% | 65% |
| Bread Characteristics | | | |
| Loaf volume | smallest | medium | largest |
| Crumb color | creamy | creamy | white |
| Crumb texture | most open and irregular | open, irregular | tight, regular |
| Flavor | most complex | good | bland |
| Shelf life | longest | good | shortest |
General principles at work here:
Longer mixing on the mixer gives a more organized structure to the gluten. This yields a tighter crumb (smaller holes) and greater volume to the loaf.
Longer mixing on the mixer yields a whiter crumb, because the dough is oxidized to a greater degree. Oxidation breaks down caretenoid pigments that lend a more creamy or yellowish color to the crumb.
Longer mixing on the mixer (and hence more oxidation) compromises the taste of the bread, because those caretenoid pigments also contribute flavor.
Shorter mixing on the mixer yields a more disorganized gluten matrix, and hence a more irregular crumb.
Shorter mixing on the mixer yields a weak dough that must be strengthened through a longer bulk fermentation. Strength happens through 1) folding the dough one or more times at intervals; 2) the acidity that is a by-product of fermentation; and 3) the development of gluten that occurs spontaneously over time.
The longer the fermentation, the better the flavor.
The longer the fermentation, the less yeast is required.
The greater the hydration, the more open the crumb.
Moral of the story:
For a pretty, voluminous baguette that is quick to make and doesn't have much flavor, develop the gluten fully on the mixer and use lots of yeast. For something tastier, use one of the other two methods.