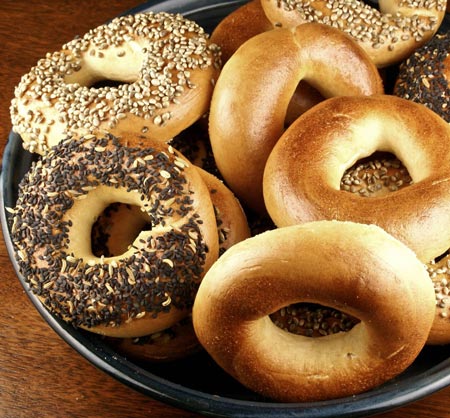 I am not a bagel expert. I do not claim to know how to identify or bake an authentic bagel. However, I do know what I like, and I like dense, chewy bagels. Bready bagels are just bread in the shape of a doughnut. What's the point of that, please? And to get a chewy bagel, you need one thing: gluten, and lots of it.
I make bagels often, and normally use high-gluten flour (King Arthur Flour's Sir Lancelot) to achieve the stiff, smooth, incredibly strong dough that yields optimal chewiness. This time, however, when I went to reach for that flour, I came up empty-handed. And because it was the hottest day of the year, I just had to have bagels. (You're the same way, right?) Vital wheat gluten to the rescue.
Vital wheat gluten looks like flour but is essentially pure gluten. It is readily available, packaged or in bulk, in many grocery and natural foods stores, or can be ordered online. I found that replacing the high-gluten flour in my usual sourdough bagel recipe with a mixture of 97% flour (the regular flour I use for bread) and 3% vital wheat gluten gave me a bagel that was virtually indistinguishable from the original.
There are two schools of thought regarding bagel shaping. As with boxers vs. briefs, Mac vs. Windows, or over-the-roll vs. under-the-roll, people seem to fall uncompromisingly into one camp or another. Yes, I have tried the punch-a-hole-in-a-ball-of-dough-and-stretch-it-out method, but the roll-the-ends-of-the-snake-together method is far superior. It just is.
Roll an 85-gram piece of dough into a snake long enough to wrap around your hand so the ends overlap by about an inch. Dont' taper the ends of the snake (i.e., do as I say, not as I do). If the dough is dry, spritz it with water. This will help the ends stick together better. Make sure you do not flour the counter or they will definitely not hold together.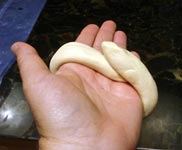 Roll the ring on the counter under your palm until the ends are sealed together and the ring has expanded so it flops back and forth on your hand as you roll. The hole should be considerably bigger than you want it in the final bagel, as it will close up as the bagels proof, boil, and bake.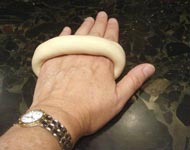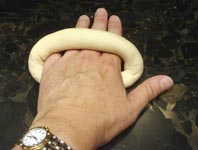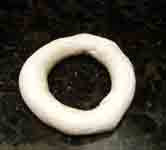 I topped some of my bagels with a mixture of black sesame, fennel, and anise seeds with some coarse salt and black pepper, and some with hemp seeds. The hemp seeds tasted good but are a little large and didn't stick well. Plain bagels are of course also an option. How do you like yours?
For those of you who would like to chastise me for calling these sourdough bagels when in fact they are leavened by both instant yeast and sourdough, chastise away. And then go get yourself a life.
Sourdough Bagels with Vital Wheat Gluten
Yield: 16 small bagels
Time:
Mix: 10 minutes
Rest: 10 minutes
Divide/shape: 20 minutes
Refrigerate: 8 – 12 hours
Boil: 20 minutes (includes heating the water)
Bake: 22 minutes
Desired Dough Temperature: 78F
Ingredients:
655 g flour
20 g vital wheat gluten
296 g ripe 100%-hydration sourdough starter
299 g ice water
2.5 g (7/8 t.) instant yeast
16.4 g (2 3/4 t.) salt
12 g (1 T.) sugar
15 g (4 1/3 t.) non-diastatic malt powder
47 g milk powder
Seeds for topping (optional)
Semolina flour for dusting
1 T. baking soda for boiling
Method:
Combine the flour, gluten, starter, water, yeast, salt, sugar, malt, and milk powder in the bowl of a stand mixer. Mix on low speed to combine.
Mix on medium-low speed until the dough is very smooth and strong, almost rubbery, about 7 minutes.
Turn the dough out onto an unfloured counter and work a few turns by hand. Form the dough into a smooth ball; the surface should feel satiny and tight.
Cover the dough loosely with plastic wrap or a towel and let it rest for 10 minutes.
Divide the dough into 16 pieces of about 85 g each. Form each piece into a light ball, cover, and let rest for 10 minutes.
Meanwhile, line two cookie sheets with parchment paper and dust them with semolina.
To shape each bagel, roll the dough into a cylinder about 8 – 10 inches long without tapering the ends. Wrap the cylinder around your hand, with the ends overlapping by about one to two inches in your palm. Roll your palm on the (still unfloured) counter to smash the ends together.
Place the bagels on the prepared cookie sheets, slip into a large food-grade plastic bag or cover with plastic wrap, and refrigerate overnight.
In the morning, preheat the oven to 450F.
Bring a large pot of water to a rolling boil. Do not remove the bagels from the refrigerator until you are ready to boil them. Add the baking soda to the water once it is boiling.
Meanwhile, place a cooling rack on the counter with a dishtowel underneath it, and place the topping seeds, if using any, on a small plate in a shallow layer.
Drop the bagels, three or four at a time, into the vigorously boiling water for 20 seconds. They may or may not float right away, but they should float by the time the 20 seconds are up. If they float right away so the tops are not submerged initially, flip them over about halfway through the boil.
Remove the bagels from the water to the cooling rack with a slotted spatula. Let them drain for about 30 seconds before pressing them, top down, into the seeds and replacing them back onto the semolina-dusted, parchment-lined cookie sheet.
Turn the oven down to 400F once the bagels are in. Bake until golden brown, about 20 – 22 minutes.
Cool on a wire rack.