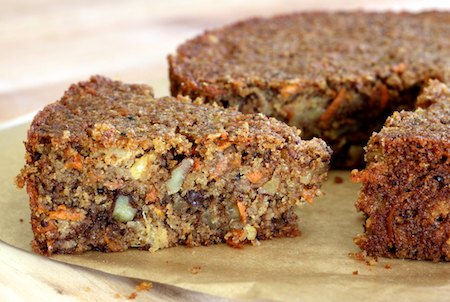 The first time you make this cake, you will look at the batter and think, "This is so wrong." I say "the first time" because — if you can get get past the thick, chunky, curdled, doesn't look like-any-cake-I-ever-saw quality of the batter (for want of a better word), if you trust me that your oven will work a miracle and turn this highly questionable stuff into a delightfully moist and toothsome cake — my bet is that there will be a second time.
Part of the reason for the wacky batter is that the "flour" in this cake is not flour at all, but fine, dry crumbs made from my favorite sourdough bread. I have been experimenting with replacing flour with crumbs in different recipes, with mixed results. This is my favorite to date. While I would never go so far as to say that a butter-and-sugar-rich cake is healthy, if you're going to eat dessert I don't think it hurts to have the health benefits of sourdough — not to mention carrots, pineapple, and walnuts — on your side.
I've also made muffins with this batter (bake for 15 minutes at 400F), but since it doesn't rise much, you won't get those grand muffin peaks; it works better as a cake. The top stays good and flat (assuming you have smoothed it well before baking). You could split it into layers and embellish it with your favorite cream cheese icing, but it really stands up nicely on its own, and the bread crumbs give the top a pleasant, subtle crunch that would be a shame to obscure with frosting.
To make the bread crumbs, dry slices of stale bread (crusts left on) in a 300F oven until they are bone dry. How long this takes depends on how stale the bread is to begin with. Then grind it in a food processor until it is the consistency of sand. One cup of crumbs is about 150 grams. They keep very well in the freezer.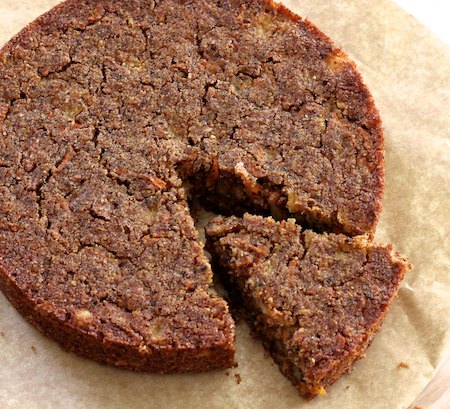 Bread Crumb Carrot Cake
Yield: one 8-inch cake
Time:
Prep and mix: 30 minutes
Bake: 50 minutes
Ingredients:
172 g dry, fine Norwich Sourdough bread crumbs
5 g (1 teaspoon) baking soda
1.2 g (1/2 teaspoon) cinnamon
1.2 g (1/2 teaspoon) nutmeg
1.2 g (2/3 teaspoon) ginger
1.2 g (1/2 teaspoon) cardamom
87 g butter, at room temperature
86 g dark brown sugar
86 g sugar
109 g (2 whole) eggs, at room temperature
98 g plain nonfat yogurt, at room temperature
9 g (2 teaspoons) vanilla extract
144 g coarsely grated carrot
131 g drained crushed pineapple
100 g walnuts, coarsely chopped and toasted
Method:
Preheat the oven to 350F.
Butter an 8-inch diameter, 2-inch high cake pan. Line the bottom of the pan with parchment paper and butter the parchment.
Sift the baking soda and the spices into the bread crumbs. Stir to combine and set aside.
Combine the yogurt and vanilla and set aside.
In a stand mixer with the paddle, cream the butter and sugars until light.
Add the eggs, one at a time, mixing well after each addition. Continue mixing on medium-high speed until the mixture is thick.
Add the dry ingredients alternately with the yogurt mixture, beginning and ending with the dries. Mix well after each addition. The batter will look curdled.
Stir in the carrots, pineapple, and nuts.
Spread the batter in the prepared pan, smoothing the top with an offset spatula.
Bake for 50 minutes, or until the cake begins to pull away from the side of the pan.
Cool in the pan for 15 minutes, then remove from the pan and cool completely on a wire rack.