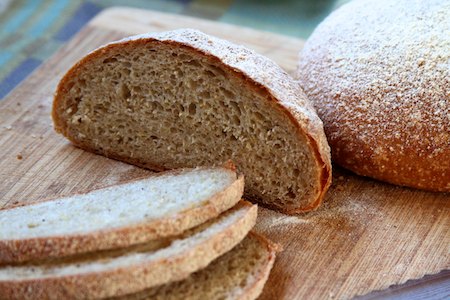 This month, Elizabeth asked the Bread Baking Babes to make Broa, a Portuguese yeasted corn bread.
In addition to being a terrific, dense, moist bread with a hearty corn flavor, this was a perfect bread for me this month because I was trying, in preparation for my move, not to buy any new ingredients, and I actually had some white cornmeal on hand.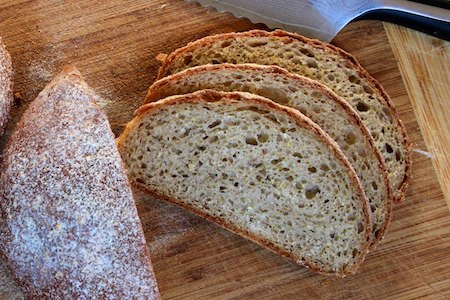 The only significant change I made to Elizabeth's wonderful recipe was to bake the bread longer. After the designated 30 minutes, the bread was just too pale for me, so I baked it an additional 10 minutes at full heat, and then turned the oven off and left the door ajar for another 10, to take the crust to golden-brown perfection.
Now I'm running a little late — I was supposed to have posted this yesterday. And if I had, I would have told you about the day also being World Bread Day, hosted by Zorra.
And yesterday was also World Food Day, when the United Nations' Food and Agriculture Organization focuses attention on global food security issues. It's not really too late to tell you that, is it? Food security is as much of an issue today as it was yesterday. Please get involved in whatever way you can.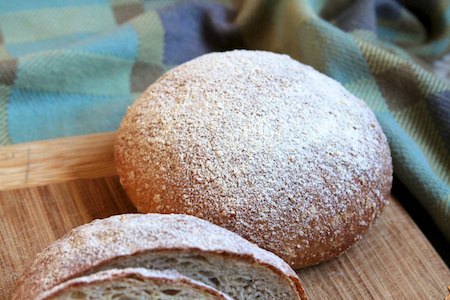 And do check out all all the other lovely Babe-ly Broas:
Bake My Day – Karen
blog from OUR kitchen – Elizabeth
Canela and Comino – Gretchen (Babe on Hiatus)
Cookie Baker Lynn – Lynn
Feeding my Enthusiasms – Elle
Grain Doe – Gorel
I Like To Cook – Sara
Living in the Kitchen with Puppies – Natashya
Living on bread and water – Monique (Babe on Hiatus)
Lucullian Delights – Ilva
My Kitchen In Half Cups – Tanna
Notitie Van Lien – Lien
Paulchens Foodblog – Astrid
The Sour Dough – Breadchick Mary (Babe On Hiatus/Tour)
Thyme For Cooking – Katie (Babe on Hiatus)