[Susan's note: I first published this post in 2010. Since then, we've all had a few more shakeups, and I continue to be thankful beyond words for the family and friends who break bread with me, on Thanksgiving and through the year. ]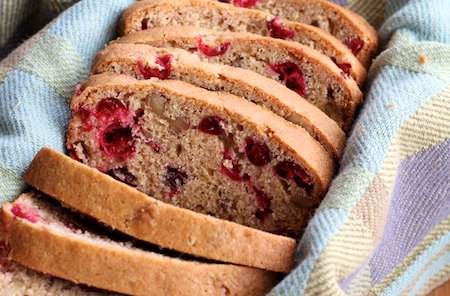 This is the recipe I said I would not post. It's the recipe for the cranberry bread I'll be serving for Thanksgiving this year.
Three years ago I wrote (and re-posted for the two years following that) about why I never changed Thanksgiving dinner, why it had been the same reliable cranberry bread for years (along with the same turkey, the same stuffing, and the same potatoes), and would be for years to come. It was the recipe from the back of the bag of Ocean Spray cranberries; you could get it there if you wanted it, and I wasn't about to go messing with it.
So this year, I messed with it, a little. Added some whole wheat flour. Took away some sugar. Made the loaf a little bigger. Converted everything into grams because that just feels better to me. Call it fine tuning.
In the scheme of things, it's not that big a deal. And by the scheme of things, I mean that for the past year — and for the first time ever in my life — my household has consisted of just me. Throw a new home, graduating from baking school, and becoming adept at toilet repairs into the scheme, and messing with a cranberry bread recipe is just not that big a deal.
It's all good, because even really fine, reliable traditions can use a little fine tuning every once in a while, and even really fine lives can withstand some major turbulence.  Because even when the bread changes, the house changes, the life changes, and the plumbing breaks, I still have so much to be thankful for. (And if it makes anyone feel any better, I didn't change the stuffing recipe at all.)
Have a beautiful Thanksgiving, everyone!