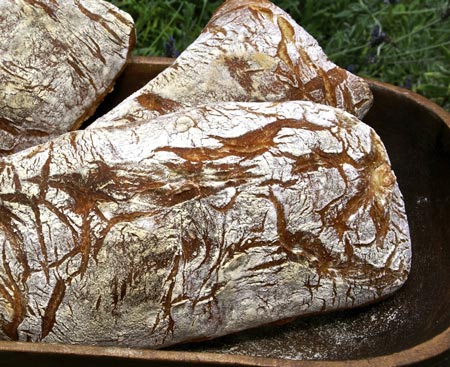 I made baguettes Fromartz a few weeks ago, and they were great. I'm not sure if I mentioned, though, that the first time I tried them, I made a mistake in reading the formula.
It wasn't a hard mistake to make (I'm very good at rationalizing these things) — don't you think that when 420 grams of water is sandwiched between 90 grams of starter and 590 grams of flour in the ingredients list, it would be very easy to turn that 420 grams of water into 490 grams? Of course it would be.
With that extra 70 grams of water, a dough that should have been 72% hydration became 83%. That's way too wet for a baguette. Of course I could have added additional flour. But adding more flour without adding proportionally more of the other ingredients (whole wheat flour, yeast, and salt in this case) would have changed the entire formula, and I just was not in the mood for doing all that math. (If you know me, you may wonder at this. Believe it or not, there are rare times when I am not in the mood for math.)
83% hydration, though, is perfect for ciabatta. So, a simple shift in perspective and I was back on track: this was not ruined baguette dough, it was a very nice ciabatta dough. Carry on.
Normally I would make ciabatta by reserving a portion of the water and adding it only after the gluten has been fairly well developed (the double-hydration technique). I couldn't do that in this case because I wasn't aware of my mistake until I had already added all the water. But it still turned out pretty well. I can't explain it, but I did enjoy the bread.