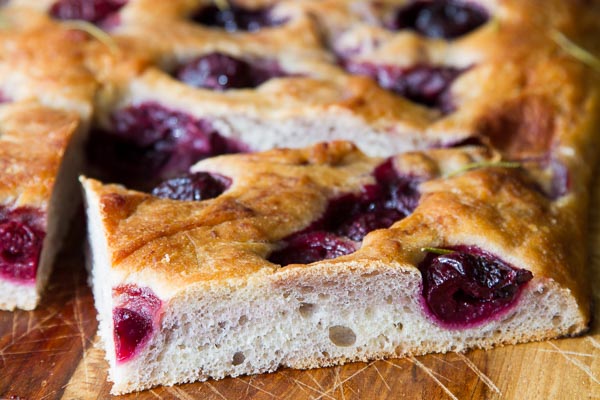 It's cherry season! I never get tired of eating them one by one, but for something different, I took a pound of dark, firm sweet cherries and baked them into a schiacciata.
Wait… a what? Say: skya-CHA-ta. Think: a Tuscan classic (often made with grapes) whose name is Italian for "squashed." See: a golden flat bread, similar to focaccia, bejeweled with juice-oozing fruit. Taste: the sweetness of cherries, rosemary, and anise against the backdrop of an olive-oil scented bread, wonderful for breakfast or a snack.
The cherry version is a bit more messy than the grape version because pitting the cherries (and for heaven's sake make the small investment in a cherry pitter) allows their juice to escape into the dough as you are mixing them in, making the dough both wetter and pinker. I did not find this to be especially troublesome, but an alternative to mixing the fruit in would be to sandwich it between two layers of flattened dough.
Cherry Schiacciata
Yield: one 12 x 15-inch flatbread
Time:
Infuse olive oil: one hour
Mix: 10 minutes
First fermentation : one hour
Proof: one hour and 10 minutes (with garnishing done halfway through this time)
Bake: about 25 minutes
Desired dough temperature: 75F
Ingredients:
leaves from 5 sprigs fresh rosemary
72 g (1/3 c.) olive oil
340 g flour
100 g semolina flour
3.2 g (1 t.) instant yeast
6 g (1 t.) salt
1 g (1/2 t.) anise seed
26 g (2 T.) granulated sugar
260 g water
400 g pitted sweet cherries (about a pound before pitting)
a few additional anise seeds for topping
Method:
Gently crush the rosemary leaves with your hand, and add them to a small bowl with the olive oil. Let rest for about an hour, then strain the oil and reserve the rosemary.
In a medium bowl, combine the flour, semolina flour, instant yeast, salt, anise seed, 13 g (1 T.) of the sugar, 28 g (2 T.) of the infused oil (reserving the rest), and water. Mix with your hands in the bowl until roughly combined.
Turn the dough out onto an unfloured counter and continue to mix (knead) with your hands for about 5 minutes, until the dough reaches a medium level of gluten development. Early during this time, add more water as needed to achieve a medium-soft dough consistency.
Flatten the dough into a disk, spread about 300 g of the cherries onto the dough, and fold the dough repeatedly until the cherries are evenly distributed throughout. Do this gently to prevent the cherries from being crushed, although some of the juice will escape into the dough.
Transfer the dough to a lightly oiled container. Cover and ferment for one hour at room temperature.
On a parchment-lined rimmed baking sheet, press and pat the dough into a rough rectangle, about 12 by 15 inches.
Proof, covered, for about 35 minutes at room temperature.
Press the remaining 100 g of cherries into the surface of the dough. Brush generously with some of the remaining infused oil and sprinkle with the remaining 1 T. sugar, a few anise seeds, and a few of the reserved rosemary leaves.
Continue to proof, covered, for another 35 minutes.
Meanwhile, preheat the oven to 425F.
Bake the schiacciata for about 25 minutes, until the crust is golden brown.
Cool on a wire rack, or serve warm.