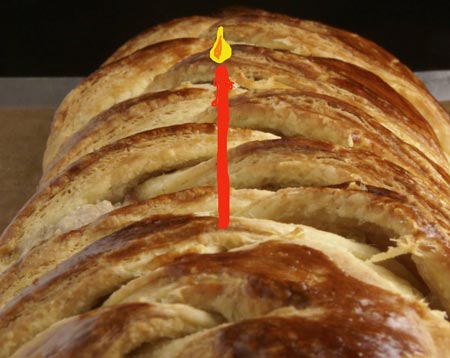 Today is the one-year birthday of Wild Yeast. Holy crow, time flies! I'm not one for elaborate birthday bashes, so let me just say this: Thank you to all of you who read here, and to all of you who share your fabulous blogs with the world. A year ago, I never could have imagined that I would ever meet so many extremely cool people from every corner of the earth, let alone count you among my friends. You've made my year!
Now, about that Danish:
The Danish pastries I made last month were good, but not as flaky and crisp as I like them, because the dough wasn't laminated. I had planned to try again, with lamination; little did I know that Kelly (Sass & Veracity) and Ben (What's Cooking?) were plotting to force my hand by choosing Danish Braid for this month's Daring Baker's challenge.
When I read the recipe (from Sherry Yard's The Secrets of Baking), I was a little surprised to see that the roll-in butter for the Danish dough was to be softened by beating it (plus a bit of flour) in a mixer to give it a spreadable consistency. The lamination in my (admittedly short) past has involved whacking a block of chilled butter with a rolling pin to shape it into a still-firm rectangle around which the dough is wrapped.
Also, I wondered whether the prescribed 30-minute chillings between folds would be sufficient to keep the butter and dough cold enough to maintain their separate layers. But it is the job of the dutiful Daring Baker to follow directions, and I am nothing if not dutiful. Plus I was curious. Plus I was a little short on time, so 30 minutes it would have to be.
Rather than using the recipe's apple filling, were were granted the leeway to choose our own. I created a concoction of cream cheese, crème fraîche, ground walnuts, and agave nectar, and topped this with fresh unadulterated fruit. Blueberries for one braid, and for the other, a combination of sliced golden apricots and another fruit that looked and tasted for all the world like a black plum except that its skin had the barest hint of fuzz and the sign in the market said "Black Beauty Apricots."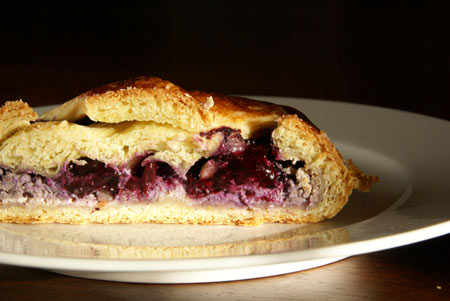 As it did in my previous Danish pastries, the fresh fruit worked very well in the braids. I have seen others express concern that fresh fruit releases too much liquid during baking and should therefore be cooked down before using it as a filling, but this hasn't been a problem for me.
I was a little less thrilled with the cheese-walnut filling that accompanied the fruit. The taste was passable, although It could have been a little sweeter to offset the tartness of the crème fraîche. The bigger problem was that, once baked, it looked a bit unappetizing. Don't you think?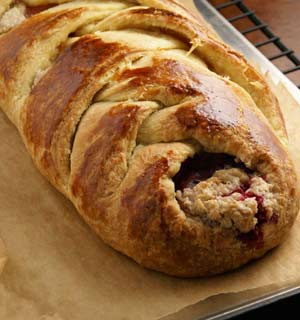 The dough itself tasted fantastic. Scented with cardamom and orange, how could it not?
The biggest disappointment, though, was that the dough was just not properly laminated. Instead of flaky, it was dense and doughy, and it really didn't rise at all before or during baking. I'm not very experienced with laminated doughs, and undoubtedly more adept hands than mine would have made a better success of this. Now that I mention it, lots of people did make a great success of this; go check out the braids of all my Daring Baker counterparts.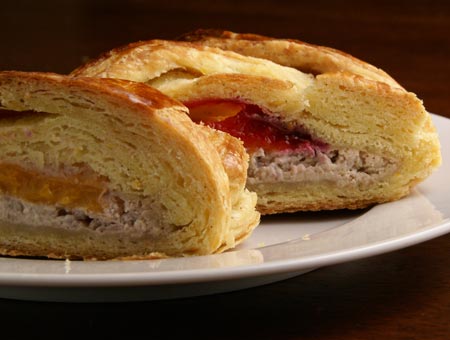 My inexperience notwithstanding, I do think a big part of the problem was that the butter was, as I had feared, just too soft and warm; it got incorporated into the dough during the rolling and folding, rather than maintaining its own identity. For Danish Take Three, I'll go with the rectangle-of-butter method, and leave the dough in the fridge for maybe twice as long between turns.
As with all my Daring Bakers challenges, this was a ton of fun and although my braids may not have been quite ready to hit the big time, my co-workers devoured them in nothing flat. To hosts Kelly and Ben, to DB masterminds Lis and Ivonne, and to all the Daring Bakers whose numbers continue to climb and are each month one step closer to taking over the world: Well Done!