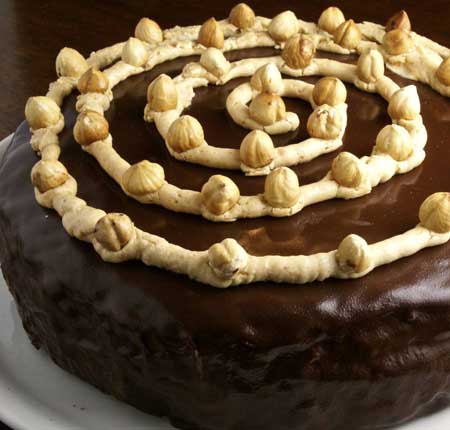 During the baking and serving of this Filbert Gateau, the July Daring Bakers challenge hosted by Chris of Mele Cotte, it seems there were a few concepts I was a little unclear on:
Concept #1: Your husband is allergic to hazelnuts so don't count on him to help you eat this cake. How did I not know this? Have I really not made anything with hazelnuts in the more-than-half-my-life we've been together? Oh well, I suppose it's discoveries like this that keep a marriage alive.
Concept #2: Do not bake jewelry into the genoise. Especially earring studs that have potential to do serious bodily injury. Luckily I discovered it before our dining room turned into an ad hoc piercing parlor.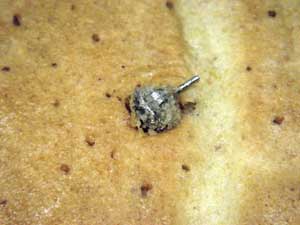 Concept #3: Buttercream does not pipe very well when it's cold. It cracks.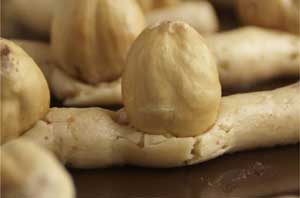 Concept #4: It's a good idea to pay attention when the recipe says "If collected butter remains at the bottom of the bowl, do not add it to the batter!  It will impede the cake rising while baking." Unless of course you like an unrisen cake.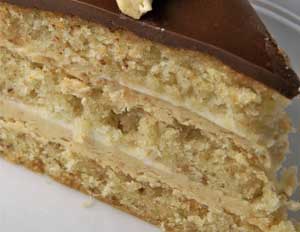 Concept #5: "Trim the side edges so they are perfectly straight" generally does not mean you want sides that look like the surface of the moon. Well, actually, I was pretty clear on the concept, it was the execution that I got hung up on.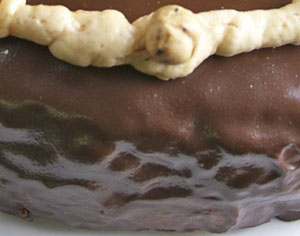 But despite my woes, when all was said and done, the overriding concept here was that this was a delicious and spectacular special-occasion cake that made a lovely July 4th dessert. (OK, it's not what I would normally serve for the 4th, but I've got to take advantage of crowds when I can for these rich desserts.) This concept can be further clarified by checking out the other Daring Bakers' cakes. Thanks to Chris for a wonderful choice!