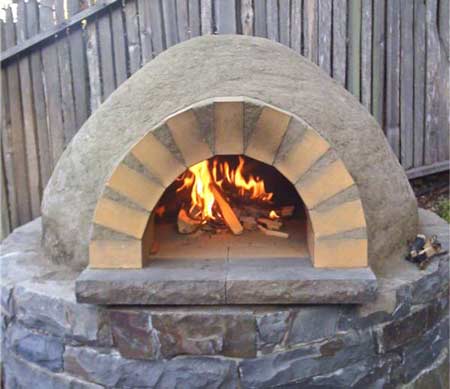 If I've been deafeningly silent about my earth oven lately, it's because there has been literally nothing cooking with it. Six weeks after I finished building the thermal mud layer, it is still not completely dry. I attribute this to 1) a coastal climate that sees thick damp fog roll in almost every evening and hang around until, often, midmorning or later, and 2) the fact that my oven does not live with me (or more accurately, I do not live with it) full time, and I keep it covered when I am away to protect it from rain (rare this time of year, but potentially disastrous to an uncured oven if it were to strike).
My impatience aside, this slow drying has not been a terrible thing. My mason friend assures me this is the best way to minimize the cracks that Kiko Denzer says are virtually inevitable (but usually cosmetic), and it's true that cracks haven't been an issue. But good grief, I can't hold my impatience at bay forever! And if I don't get the second (insulating) layer on soon, before the rains get down to serious business in another month or two, I may really be sorry.
So this weekend I lit a small drying fire to help things along. And lo and behold, it burned beautifully, the sky did not fall (nor did the oven), and the drying process took a giant leap forward.
Emboldened by this bit of success (and with a certain song by The Doors playing relentlessly in my head), my husband and I decided to try baking some pizzas the following day. Denzer warns that the oven will not perform well until it is insulated and bone-dry. On top of that, we got a later start than we hoped for, so we were a little short on firing time. We kept our expectations low and looked on the whole thing as a learning experience, which turned out to be a good idea.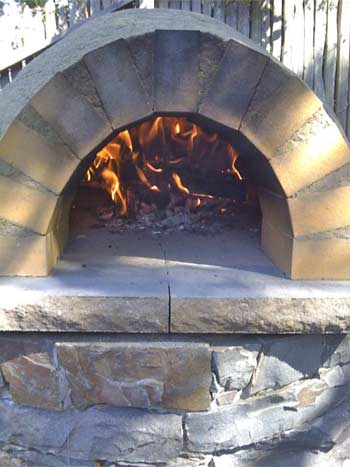 We stoked up the oven, and an hour and half and a few hairline cracks later, it felt mighty hot inside and out (though we were without any sort of thermometer). What the heck, we just went for it, pushed the fire to the back, cleaned the ashes off the firebrick hearth with a rag, and deposited the first of two pizzas I had prepared.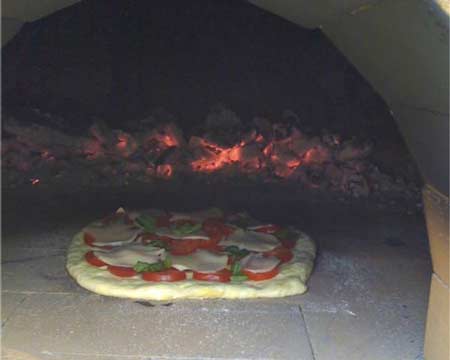 In a hot-enough oven, a pizza should be done in two to three minutes. Let's just say ours took considerably longer. It was absolutely edible, but nothing resembling the chewy-crisp, perfectly-charred pie you'd like from your wood-fired oven. By the time it was done, there was not enough heat left for the second pizza (but then we hadn't added any more wood to the fire), so we resorted to the kitchen oven for that one.
Were we discouraged? No way. I'm ecstatic that:
the oven held up
the fire burned without coaxing
the hearth proved smooth enough to easily manipulate the pizza
the mud is now dry enough that I feel OK about adding the insulating layer
For sure, it would have been better with
a dryer oven
an insulated oven
firing for longer
harder wood (we used some hard but mostly soft)
That's what next time is for.