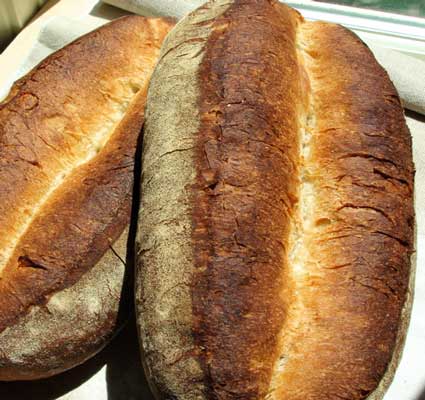 This was going to be a post about one thing: shaping a fendu loaf. Then I ended up having to improvise a little with the dough formula, so it will be about that, too.
First, the fendu: I've been getting a little bored with basic batards lately, so I thought I'd do something just a bit different. A fendu (French for "split") loaf is an easy variation that looks cool and offers a nice respite for those with scoring anxiety.
The fendu can be made with any shapeable dough, but my understanding is that it is traditionally done with country French bread (pain de campagne), which is a basic French bread, made with sourdough or other preferment and a portion of whole grain flour (rye and/or whole wheat).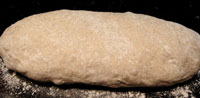 To shape the fendu, first shape a batard. Make it a bit stubby; it will elongate into a torpedo as you complete the shaping process. Place the batard on a lightly floured counter, and sprinkle a little flour on the top.
With a dowel (or, if you can't find one, a new (undented) drumstick, like the one I borrowed here), press into the center of the loaf the loaf firmly along the long axis.
Roll the dowel back and forth to make a "hinge" about two inches wide and 1/8-inch thick. Sprinkle the hinge very lightly with flour.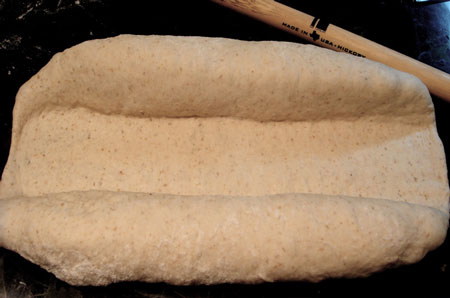 Roll the two halves of the loaf back toward each other so they touch. Place the loaf, split side down, in a floured couche or linen-lined banneton to proof.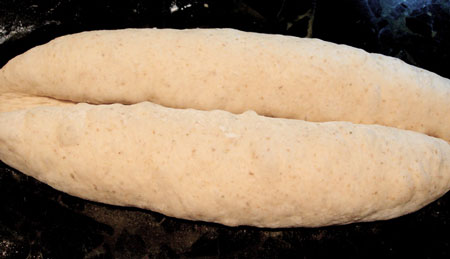 After proofing, the split may look rather indistinct, but it should open up during baking.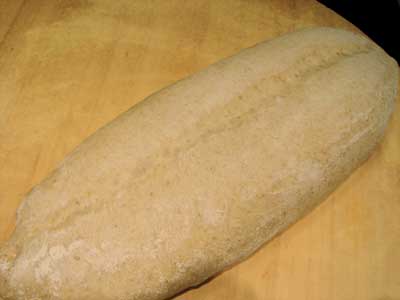 Bake the loaves split side up, and voilà!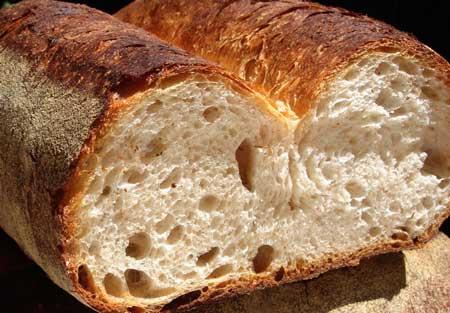 Now, about the dough. My plan was to do a variation on Norwich Sourdough, substituting whole wheat flour for half of the pumpernickel. Then I realized I had to be somewhere before the bread would be done, so I planned to spike the dough with a little yeast (3/8 t.) for faster fermentation. Then I realized I had elaborated my starter into only about half of what I needed, so I doubled my original amount of yeast and increased the flour and water to make up for the missing starter.
So it's not the dough I would usually make, but the bread was done in 4 1/2 hours from start to finish, the crust was a whole lot more crispy-crackly than what I usually get using a higher proportion of starter, and the taste still beats most store-bought bread by a mile.
Country Semi-Sourdough
Yield: 1 kg (two loaves)
Time:
Mix/autolyse: 25 minutes
First fermentation: 1.5 hours
Divide, bench rest, and shape: 25 minutes
Proof: 1 – 1.5 hours
Bake: 30 minutes
Desired dough temperature: 78F
Ingredients:
496 g white flour (I used Giusto's Golden Haven organic)
31 g whole rye flour (I used KAF organic pumpernickel)
31 g whole wheat flour (I used Whole Foods organic)
339 g water at about 70F
138 g ripe 100% hydration sourdough starter
12 g salt (2 t.)
2.25 g instant yeast (3/4 t.)
Method:
In the bowl of a stand mixer, mix the flours, water, and starter on low speed until just combined, about one minute.
Let the dough rest (autolyse) for 20 minutes.
Add the salt and yeast and continue mixing on low or medium speed until the dough reaches a medium level of gluten development. This should only take about 3 or 4 minutes.
Transfer the dough to an oiled container (preferably a low, wide one so the dough can be folded without removing it from the container).
Ferment at room temperature (72F – 76F) for 1.5 hours, with folds at 30 and 60 minutes.
Turn the dough out onto a lightly floured counter. Divide it into two pieces and preshape them into light balls.
Sprinkle the balls lightly with flour, cover loosely with plastic, and let rest for 15 minutes.
Shape into fendu batards and place split side down in a floured couche or linen-lined bannetons.
Slip the couche or bannetons into a large plastic bag or cover with plastic wrap and proof at room temperature for 1 – 1.5 hours.
Meanwhile, preheat the oven, with baking stone, to 475F. You will also need steam during the initial phase of baking, so prepare for this now.
Turn the proofed loaves, split side up, onto a semolina-sprinkled peel or parchment.
Once the loaves are in the oven, turn the heat down to 450F. Bake for 10 minutes with steam, and another 20 minutes without steam. The crust should be a deep brown. For a very crisp crust, turn off the oven and leave the loaves in for another 5 minutes with the door ajar.
Cool on a wire rack. Wait until completely cool to cut and eat.