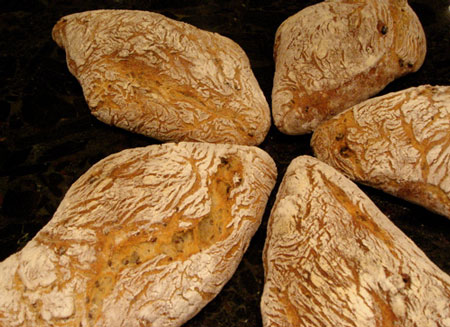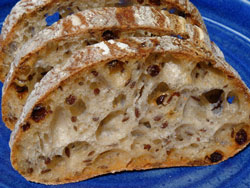 If I'm being honest, I must say that neither flax seeds nor currants make my list of favorite taste sensations. So no one is more surprised than me that this rustic bread freckled with these prosaic little ingredients is nothing short of magnificent.
Nutty and light with an occasional hit of sweetness provided by the fruit, flax seed-currant bread is equally at home for breakfast with a drizzle of honey, sliced horizontally for hearty ham sandwich , or after dinner with fruit and cheese.
This bread, adapted from a recipe I learned at SFBI, has a texture similar to ciabatta, and it uses the same double-hydration mixing technique: reserve a portion of the water to be added after the gluten is developed, to achieve a strong, but very soft and wet, dough. The seed soaker and currants are added at the end of mixing to avoid having them interfere with the gluten development.
Rustic Flax Seed-Currant Bread

Yield: 2.3 g (6 – 8 small loaves). The recipe can easily be halved.
Time:
Mix and ferment poolish: 12 hours (flax seeds also soak during this time)
Mix final dough: 10 – 15 minutes
First fermentation: 2.5 hours, with folding after 1.5 hours
Divide: 5 minutes
Proof: 45 – 60 minutes at room temperature, or 1.5 hours in the refrigerator plus 45 minutes at room temp
Bake: 40 minutes
Desired dough temperature: 76F
Poolish Ingredients:
215 g white flour (I used Giusto's Golden Haven organic)
215 g water at about 70F
0.2 g instant yeast (1/16 t.)
Soaker Ingredients:
103 g dark flax seeds (can be toasted for better flavor)
154 g water
Final Dough Ingredients:
729 g white flour
86 g fine whole wheat flour
43 g fine whole rye flour
601 g cool water (about 50F)
All of the poolish
21 g salt
4 g instant yeast (1 1/3 t.)
129 g dried currants
All of the soaker
Method:
In a large bowl, mix the poolish ingredients until just combined. Cover the bowl and let the poolish ferment at room temperature for about 12 hours. It is ready to use when the surface is creased, and pebbled with bubbles.
Meanwhile, combine the flax seeds and soaker water in a small bowl and let stand at least 2 hours.
Place the final dough flours, yeast, salt, poolish, and all but about 20% of the water, into the bowl of a stand mixer. Mix on low speed until the ingredients are incorporated, about 4 or 5 minutes. The dough should have a medium consistency at this point (similar to a basic French or sourdough bread).
Continue mixing on low or medium speed until the dough reaches a medium level of gluten development. This might take about 5 minutes, but will depend on your mixer.
Add the remaining water (and even more, if needed) and continue mixing until it is all incorporated and you have a dough that feels very soft and stretchy, yet strong and springy.

Add the soaker and currants and mix in low speed until they are evenly distributed through the dough.
Transfer the dough to a well-oiled container.
Ferment at room temperature for about 2.5 hours, folding the dough after 1.5 hours. For this wet dough, I prefer to turn it out onto a liberally floured counter for folding, rather than folding right in the container. Make sure the container is well oiled before returning the dough to it.

Turn the dough out onto a very well floured counter.
Working from the center towards the edges, very gently stretch the dough into a rectangle about 2 cm in height. Try to degas the dough as little as possible.
With a dough scraper, cut the dough into diamond-shaped or rectangular pieces. Gently lift these pieces to a floured couche, supporting the entire piece from underneath and keeping the floured side of the dough down. Again, be careful to degas as little as possible.

Cover the couche with plastic or slip it, on a board or sheet pan, into a large food-grade plastic bag.
Proof for 45 – 60 minutes at room temperature, until the dough is very light and full of gas. Or place the loaves in the refrigerator for 1.5 hours, then at room temperature for another 45 minutes.
Meanwhile, preheat the oven, with baking stone, to 440F. You will also need steam during the initial phase of baking, so prepare for this now.
Prepare a piece of parchment paper the size of your baking stone, and put it on a board or sheet pan.
Sprinkle the loaves lightly with flour and flip them gently onto the parchment-covered pan, so the heavily floured side is now up. Do not score the loaves.
To bake, slide the loaves, parchment and all, onto the baking stone.
Bake for 8 minutes with steam, and another 27 minutes or so without steam. Crack the oven door open during the last 5 minutes of this time. The crust should be a golden brown. Then turn off the oven and leave the loaves in for another 5 minutes, still with the door ajar.
Cool on a wire rack. Wait until completely cool to cut and eat.