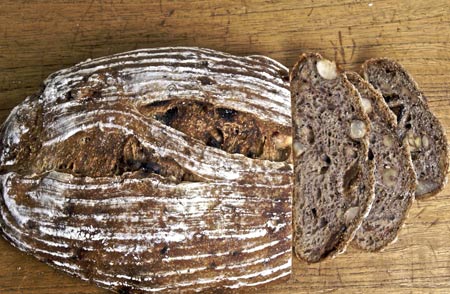 If you're wondering why bread matters and what's the matter with modern commercially-made bread, Andrew Whitley spells it out in Bread Matters: The State of Modern Bread and a Definitive Guide to Baking Your Own, and he doesn't mince words. He spends the first 50 pages or so explaining why the commercial bread baking process (specifically in Britain, although I think it largely applies to most industrialized societies) is "a nutritional, culinary, social, and environmental mess."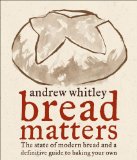 But maybe you knew that already, if you're into baking your own bread. In that case, you might be drawn to this book's unassumingly beautiful and wholesome breads, its chapter on gluten-free baking, or the recipe for kvas, a slightly alcoholic Russian drink made from rye bread, sourdough starter, and molasses.
Aside from looking like it would be just plain delicious (which it was), the recipe for Fruit and Nut Leaven Bread intrigued me because it includes the nuts (along with the dried fruit) in the soaker. This is unusual — most recipes call for nuts to be toasted or untreated — and Whitley promised the soaking would lend them "an almost buttery eating quality." Also, the fruits and nuts constitute a wonderfully high proportion of the overall dough. I must say this was a really satisfying loaf to bake and to eat.
Publisher Andrews McMeel has generously offered to send a free copy of Bread Matters to one of you. Just leave a comment, before 11:59 p.m. PST on December 8, about your own reasons for baking your own bread, and I'll choose a winner by random drawing. And no geographic restrictions on this one!
— Update: The giveaway is over. Comments are still welcome, though!  —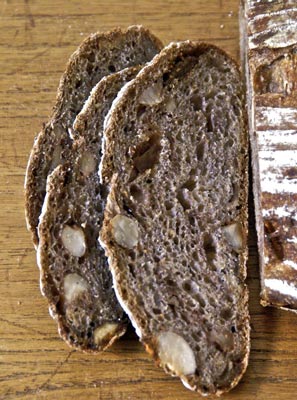 Fruit and Nut Bread
(Adapted from Bread Matters by Andrew Whitley)
Note: I made a few modifications to the original recipe, which calls for
Mixing the flours, water, and salt together before adding the starter. I added them all at the same time.
190 g water. I found I needed 30 g more.
Proofing the loaf right-side up on a baking sheet. I used a 9.5-inch oval brotform.
Proofing for 3 – 5 hours. I found mine was ready in 2 hours.
No steam. Whitley is not a fan of steaming baking bread; I am.
Baking on a baking sheet, not a stone.
Yield: 940 g (one large loaf)
Time:
Soak soaker: at least 4 hours
Mix final dough: 10 minutes
First fermentation : one hour
Preshape, rest, and shape: 30 minutes
Proof: 2 – 5 hours
Bake: 40 minutes
Fruit and Nut Mix Ingredients:
50 g dried figs
35 g pitted dates
35 g pitted prunes
35 g hazelnuts
35 g brazil nuts
35 g walnuts
50 g water
Dough Ingredients:
200 g flour
70 g whole wheat flour
220 g water
5 g salt
200 g mature 60%-hydration whole wheat sourdough starter
All of the fruit and nut mix
Method:
Coarsely chop the fruits and nuts and combine them with the 50 g of water. Cover and let rest for at least 4 hours, or overnight. Drain any loose water off before adding the mixture to the dough.
Combine all of the dough ingredients except the fruit and nut mixture in a bowl. Mix by hand until combined. Adjust the water as needed to achieve a medium-soft consistency.
On the counter, continue mixing the dough by hand until it is smooth and elastic.
Transfer the dough back into the mixing bowl. Cover and ferment for one hour.
Turn the dough onto the counter and pat it into a disc. Place the fruit and nut mixture on the dough and fold the dough around them, repeating until they are reasonable well dispersed.

Shape the dough into a batard and place it seam-side-up into a floured brotform.
Proof, covered, until the indentation left by a fingertip springs back only slowly, 2 – 5 hours.
Meanwhile, preheat the oven, with baking stone, to 425F. You will also need steam during the initial phase of baking, so prepare for this now.
Just before baking, slash the top of the loaf.
Once the loaves are in the oven, reduce the temperature to 400F. Bake for 10 minutes with steam, and another 25 minutes or so without steam. Then turn off the oven and leave the loaves in for another 10 minutes, with the door ajar.
Cool on a wire rack.