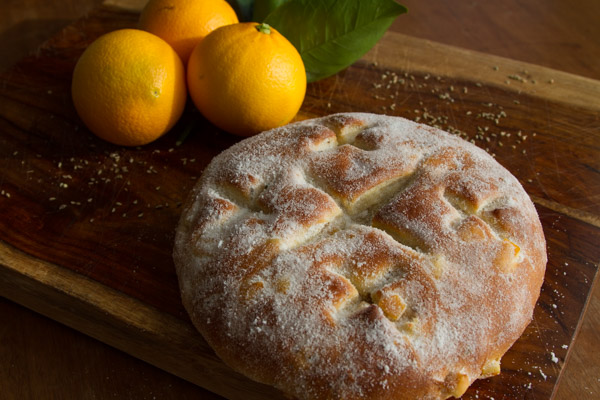 When I was a student at SFBI, if you had asked any of us for a short list of our favorite sweet breads, Gibassier would have been on it every time. To get an idea of our collective response to the mere mention of this regional brioche, delicately flavored with orange and and anise and enriched with olive oil, think Les Simpsons en Provence: "Mmmm…. Gibassier!"
There seems to be some disagreement about whether Gibassier and Pompe à 'Huile — one of the thirteen Provençal Christmas desserts — are the same thing. I don't know the answer, but why quibble? I'm pretty sure no one will complain if this bread winds upon your dessert table — at Christmas time or any other time, with or without twelve other sweets — or on your breakfast table or your coffee table.
The making of Gibassier is a bit involved, but worth the effort. Here are a few things to keep in mind:
Orange blossom water is an essential ingredient. Do not leave it out! I am lucky to have a Middle-Eastern grocery in my neighborhood that carries it, but orange blossom water is also readily available online.
Candied orange peel is easy to make at home. This recipe for candied lemon peel works for oranges too!
Both the sponge and the final dough call for eggs in fractional amounts. I suggest taking four whole eggs, mixing them up lightly with a fork or an immersion blender, then measuring out what you need for each part of the recipe. You will have a little left over, which can be reserved for egg-washing other baked things.
My loaves show a traditional shaping and scoring pattern: a round disc cut with a central "X" surrounded by four smaller ones. To make these cuts, use something rigid with a flat edge to cut straight down, guillotine-style. Do not use a knife or anything that drags through the dough; this will not make a clean cut. I used a one-inch-wide strip I cut from a plastic dough scraper.
The recipe calls for osmotolerant yeast, which performs better than regular yeast in sweet doughs. If you don't have it, you can use regular instant yeast and increase the amount by about 30%.
Clarified butter is needed for finishing. A few tablespoons is enough for four loaves. Melt unsalted butter in a small pan. With a ladle, skim off the light yellow foamy part so you have the golden liquid part with some solids at the bottom. Either pour off the liquid carefully so the solids remain in the pain, or strain it though a cheesecloth-lined strainer.
Gibassier
(Adapted from SFBI)
Yield: about 1600 g (4 loaves)
Time:
Ferment sponge: 12 – 16 hours
Mix final dough: 20 minutes
First fermentation : 1 hour
Preshape, rest, and shape: 40 minutes
Retard (optional): overnight
Proof: 1.5 – 2 hours
Bake: 15 minutes
Sponge Ingredients:
155 g flour
70 g milk at room temperature
19 g egg, at room temperature
0.1 g (a pinch) instant yeast
Final Dough Ingredients:
594 g flour
16.6 g (5 1/3 teaspoons) osmotolerant yeast (or 21.6 g [7 teaspoons] instant yeast)
11.3 g (generous 1 3/4 teaspoons) salt
all of the sponge
112 g olive oil
167 g cold eggs
48 g water
37 g orange blossom water
149 g sugar, divided
112 g butter, cool but pliable
149 g diced candied orange peel
12 g anise seeds
Finishing Ingredients:
clarified butter
fine granulated sugar
Method:
To make the sponge, soak the instant yeast in the room-temperature milk for 5 minutes, then combine with the flour and egg. Cover and ferment at room temperature for 12 – 16 hours.
In the bowl of a stand mixer with dough hook, combine the flour, salt, osmotolerant yeast, sponge, eggs, olive oil, water, orange blossom water, and half the sugar. Mix on low speed until the ingredients are incorporated.
Continue mixing on low or medium speed until the gluten reaches a medium level of development.
Add the remaining sugar in two or three increments, mixing for three or four minutes after each addition. Then continue mixing until the gluten reaches full development. This will take some time, so be patient.
Add the butter all at once and mix in low-medium speed until it is fully incorporated into the dough.
Add the candied orange peel and anise seed, and mix in low speed until these ingredients are evenly distributed.
Transfer the dough to a lightly buttered container. Cover and ferment for one hour at room temperature.
Turn the dough into a lightly floured counter and divide it into four pieces of about 400 grams each. Shape them into balls and let them rest, covered, for 30 minutes.
Roll or pat the dough into discs about 3/4-inch thick and 6 – 7 inches in diameter. Cut each with the X pattern shown above.
Place the loaves on two parchment-lined baking sheets. Slip the sheets inside a large plastic bag along with a bowl full of warm water. Proof for 1.5 – 2 hours, replenishing the water when it cools. When fully proofed, the dough will spring back slowly when pressed lightly with the pad of your finger. (Alternatively, the loaves can be refrigerated overnight before proofing.)
Meanwhile, preheat the oven to 375F on the convection setting, or 400F on the conventional setting. You will also need steam during the initial phase of baking, so prepare for this now.
Bake for 8 minutes, open the oven door briefly to allow any remaining steam to escape, and bake for another 6 minutes or so, until the loaves are golden brown. If you do not have convection, you may need to rotate the position of the baking sheets halfway through the bake to ensure even browning and keep the one on the lower rack from burning on the bottom.
While the loaves are still warm, brush them with clarified butter. Dredge them in fine granulated sugar, brushing or shaking off the excess.
Cool on a wire rack.