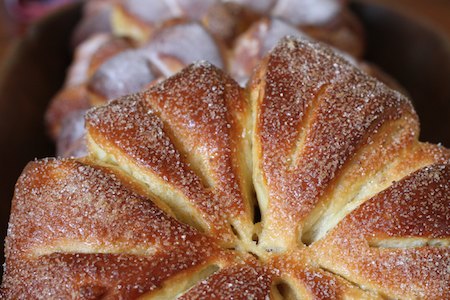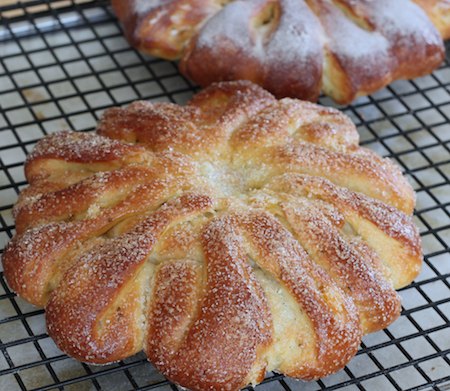 Here is the shaping of the 6-section snowflake and 12-section rosette loaves. For the recipe, go back to page 1.
For both of these shapes, the cutting should be done with a straight, rigid piece of metal or plastic. Press straight down through the dough, guillotine-style. Do not try to drag a blade through the dough. A dough scraper works for larger cuts; for smaller ones I used a square-ended metal spatula, and for tiny ones the square handle end of a metal measuring spoon.
I suggest shaping each loaf directly on a piece of parchment paper half the size of your sheet pan. This way you can transfer it, parchment and all, to the pan without distorting the shape.
For the 6-section loaf, use one piece of dough at 300 – 350 grams.
After shaping the dough into a ball and resting for about, 20 minutes, flatten the dough, seam-side-down, into a disc about 3/4-inch in thickness. Cut the disc into six sections, leaving them connected at the center.
Pull the sections outward to separate and elongate them a little. Make a cut through the center of each section; don't cut all the way through to the edge.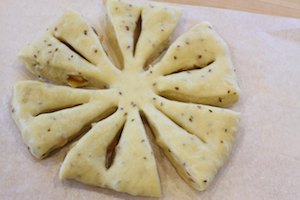 Use your fingers to open the cuts and push the edges of the sections a bit inward, like this: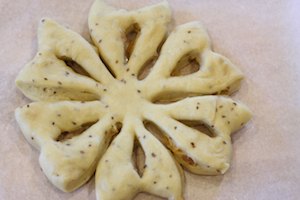 It's not shown in the photo, but I also made six tiny cuts in the center of the snowflake, in a star-shaped arrangement.
~~~
For the 12-spoke rosette, use three pieces of dough at 100 grams each, and one at 60 grams. Shape each piece into a ball and let rest for 20 minutes.
Shape each of the three 100-gram balls into a torpedo shape about 8 inches long. (Yes, I do know there are more than three in this picture.)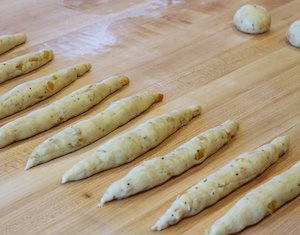 With firm pressure, roll the side of your hand back and forth a few times in the center of each torpedo to divide it into two teardrop-shaped pieces. Arrange the six teardrops like this: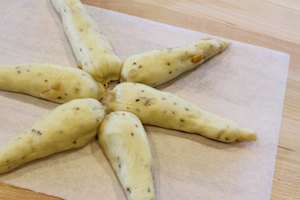 Make a cut down the center of each section, leaving the section connected at the end. Use your fingers to open the sections.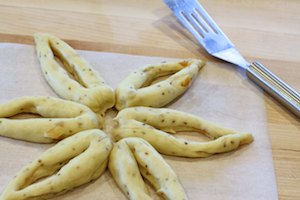 Press the 60-gram ball of dough firmly down in the center…
… and make three cuts (intersecting at their centers) in this center section. These cuts will help the dough stick to itself in the next step.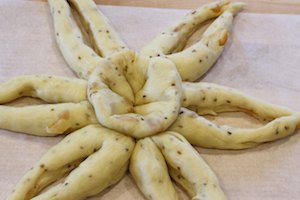 Fold the tip of each section back to the center, pressing down firmly where they meet os they do not fly up during baking.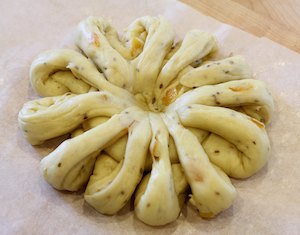 When you take the loaf out of the refrigerator for its final proof, it is helpful to once again press down firmly in the center to be sure they don't become unattached.