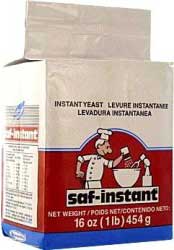 If you've made or read through any of my recipes, maybe you've noticed that when they call for commercial yeast, it's the unfortunately-named "instant" kind. Unfortunately-named because doesn't "instant," when it comes to food, connote inferior and inauthentic? Can instant hot chocolate, instant onion soup, or instant rice ever measure up to the real stuff?
But instant yeast isn't like that. It's the very same organism, Saccharomyces cerevisiae, as fresh compressed (cake) and active dry, the other two forms of commercial yeast commonly available to home bakers. And plenty of professional artisan bakers use instant yeast too.
Like active dry, instant yeast (also called rapid rise, quick rise, or bread machine yeast) is made by essentially drying fresh yeast so that some of the cells die and form a protective layer around the still-living cells. The dried form has a much longer shelf life, about two years at room temperature for an unopened package, compared to about two weeks in the refrigerator for fresh.
That layer of dead cells is thinner in instant yeast than in active dry. That means that it can be added to the dough directly, without the rehydration that active dry requires. This makes it good for bread machines, but it's also wonderful for all other breads.
But doesn't instant ("rapid rise," remember?) yeast cause the bread to rise faster, and doesn't that mean the bread will have less flavor? Well, yes and no. If you were to make two doughs, one with active dry and the other with the same amount of instant, the one with the instant would rise faster. This makes sense, because, measure for measure, the instant has fewer dead cells, and therefore more living cells, than the active dry. And (to grossly oversimplify things), a shorter rise time does produce less flavor.
So guess what? You don't use the same amount, you use less. If you substitute instant yeast for active dry at a ratio of 80% (by weight), you'll get a dough that behaves and tastes virtually identical, without the hassle of soaking the yeast to rehydrate it. What's not to love about that?
If you substitute instant in a formula calling for fresh compressed, use 40% by weight (or 33% for a pan bread that will rise at a warmer-than-room temperature).
I've listed conversion factors for the different types of yeast, by weight and volume, below.
I buy instant yeast in 1-pound bricks, which are available online and in some supermarkets and wholesale clubs. At $3 – $5 per pound, this is much more cost effective than the small jars or packets, even if you have to pay shipping, and even if you won't use all of it before its meaningful life has expired. Keep it at room temperature unopened for up to two years, and in the refrigerator for six months once opened.
In a pinch, though, those small packages and jars found in every supermarket are the same thing, so use them if you need to.
I have used both the SAF and Fermipan brands of instant yeast, and found no difference between the two. I haven't used Red Star but it's made by the same company (Lesaffre) as SAF, so I would expect it's just as good. And I have no experience with Fleischmann's, but I have no reason to expect it to perform significantly differently from the other brands.
Find more information on the different forms of yeast at SFBI's website and newsletter, and at King Arthur Flour.
Yeast Conversions
1 tsp instant = 3.1 g
1 g instant = 1.25 g active dry = 2.5 g fresh
1 tsp instant = 1.3 tsp active dry = 0.4 cake fresh
——–
1 tsp active dry = 2.9 g
1 g active dry = 0.8 g instant = 2 g fresh
1 tsp active dry = 0.75 tsp instant = 0.3 cake fresh
——–
1 g fresh = 0.5 g active dry = 0.4 g instant
1 cake fresh = 3 tsp active dry = 2.25 tsp instant
Online Sources for Bulk Instant Yeast