Last week I wrote about some of the interesting Japanese breads I met on my recent vacation. Melon pan, a soft, sweet roll encased in cookie dough and scored to resemble a melon, captured my imagination as soon as I tried it, and I knew I would attempt to recreate this adorable little bread in my own kitchen.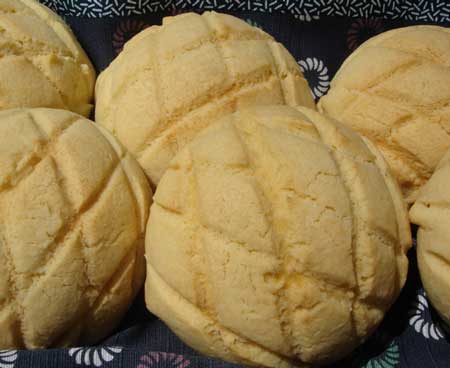 I pulled elements from this recipe, and this one, as well as the Poor Man's Brioche from Peter Reinhart's The Bread Baker's Apprentice.
I don't have a lot of experience with sweet enriched breads, and the first time I made it, it was good, but the texture was denser than what I had had in Japan and what I wanted to create. So I increased the amount of egg and butter, and added the sugar and butter later in the process to give the gluten more chance to develop without interference from those ingredients. (Water is needed for gluten development. Sugar attracts water, pulling it away from the flour, and butter coats the protein, similarly keeping water away.)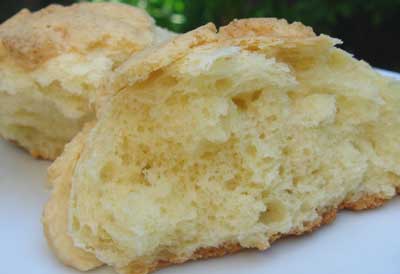 I am satisfied with the flavor and texture of the bread; they are as close as I feel I need to get to the melon pan I found in Japanese bakeries. The color of my crumb, though, is quite yellower, so I guess it has much more butter and egg than authentic Japanese melon pan. Perhaps I will play with the recipe some more.
In the meantime, while this may not be the real thing, it is delicious, fun to make, and, for me, a nice memento of a memorable trip to a lovely and fascinating country.
Melon Pan

Yield: 9 2.5-ounce (3-inch-diameter) rolls
Time:
Mix: 30 minutes
First fermentation: 1.5 hours
Divide and shape: 10 minutes
Proof: 1 hour (during this time you also mix the cookie dough and "dress" the rolls)
Bake: 20 minutes
Cool: 45 minutes
Desired dough temperature: 80F
Ingredients for bread dough:
Ingredients for cookie dough:
51 g unsalted butter
65 g sugar
29 g egg
1.5 g (3/8 t.) vanilla extract
154 g pastry flour (I used Giusto's organic)
2 g (1/3 t.) salt
Method:
For bread dough: use a stand mixer. Mix flour, water, yeast, salt, and egg on low speed until just combined.
Mix on medium speed for 4 minutes. The dough has quite a stiff consistency at this point.
Turn back to low speed and add sugar in two batches. Mix on low speed until sugar is incorporated. The dough is softer after the addition of the sugar.
Mix in medium speed about 10 minutes, until dough has reached a medium-high level of gluten development. The dough is soft and sticky.
Again in low speed, add the butter and mix for a few minutes until it is incorporated.
Turn to medium speed and mix about 6 minutes, until gluten is quite well developed.
Transfer the dough to a container and cover tightly.
Ferment at room temperature (72F – 76F) for about 1.5 hours, until approximately doubled in volume.
Turn the dough out onto a lightly floured counter. Divide it into 9 pieces of about 43 g each.
To shape each piece into a ball, place it on an unfloured section of counter and cup your hand lightly over it, with your hand resting on the counter. Move your hand quickly in a tight circular motion until the dough forms a smooth, tight ball.
Place the dough balls on a cookie sheet lined with parchment paper. Cover the sheet with plastic wrap or slip it into a large plastic bag. The rolls will proof for about one hour altogether, or until nearly doubled in volume.
Meanwhile, make the cookie dough: Cream butter and sugar until fluffy. Add egg and vanilla and beat until combined. Whisk flour with baking powder and salt, and sir the dry ingredients into the wet ones, mixing until just combined. Divide the dough into 9 balls of about 32 g each, and place them in the refrigerator.
Preheat the oven to 360F.
After the rolls have proofed for about 50 minutes, roll the cookie dough into 3.5-inch-diameter rounds and drape them over the rolls. The cookie dough encases the top and sides, but not the bottom, of the bread.
Using a paring knife, score the cookie dough in a diamond pattern.

Bake at 360F for 18-20 minutes, or until just beginning to brown.
Cool on a wire rack. When completely cool, enjoy with a cup of coffee or green tea.