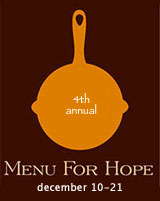 I am proud and excited to join the international food blogging community in Menu for Hope. Led by Pim Techamuanvivit of Chez Pim, this fundraising event to benefit the United Nations World Food Programme is a wonderful opportunity to donate to a most worthy cause, and have a chance at scores of fantastic food-related prizes while you're at it.
Last year's Menu for Hope raised over $60,000 (!) and this year's event can surpass that huge success, with your participation. Proceeds from this campaign will go to the WFP's school lunch program in Lesotho, in southern Africa.
Each $10 you donate to Menu for Hope between now and December 21 entitles you to one chance on your choice of item(s) from a dazzling array of prizes offered by food bloggers around the world. The more you donate, the more virtual raffle tickets you earn and the greater your chances of winning, so don't hold back!
You may bid on any prize(s) you like, but I hope you'll consider my offering, generously donated by Tom Douglas Restaurants in Seattle.
Item #UW16: A set of three signed cookbooks by Chef Douglas: Tom Douglas' Seattle Kitchen, Tom's Big Dinners, and I Love Crab Cakes!

Bread bakers will love the Fig Brioches and Smoky Eggplant with Seed Bread. And what about Red Beet Ravioli with Fresh Corn Relish, Pesto Risotto Crab Cakes, and Cornmeal-Rosemary Cake With Lemon Glaze? These gorgeous autographed books will help you bring these and other elegant yet down-to-earth dishes to your own table. Yes, you want these books!
Now here's what you do:

Decide which prize(s) you would like to win. The code for my prize is UW16. Or browse the selection of other prizes and make a note of the codes of those that interest you.
Go to the Menu for Hope page at FirstGiving to make a donation.
In the Personal Message box on the donation form, specify how you'd like to "spend" your donation, at $10 per virtual raffle ticket. For example, for a $50 donation you could say "3 x UW16 and 2 x UW03."
If your employer has a matching gift program, please check that box and fill in the information so the corporate match can be claimed.
Check the box allowing the Menu for Hope organizers to see your email address, so you can be contacted if you're a lucky winner. Your address will not be shared with anyone else.
Winners will also be announced on Chez Pim on January 9.
For the complete prize list, visit Chez Pim. For prizes sponsored by my fellow US West Coast bloggers, visit regional host Rasa Malaysia.
Good luck, and thank you, thank you, thank you for your generosity to benefit such a worthwhile program!