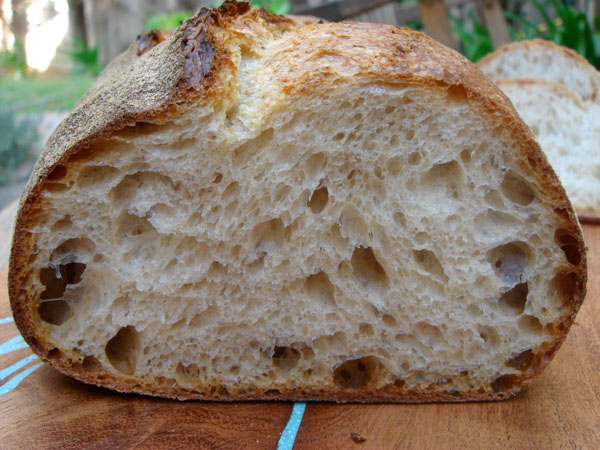 I love baking all kinds of bread, but a basic sourdough loaf is an essential staple at our house. Good with everything from blue cheese to blueberry jam, and quite possibly even better unadorned, we always feel something is missing if there isn't a loaf resting on the cutting board, ready for a quick snack or a hearty sandwich.

I first tried this recipe, adapted from the Vermont Sourdough in Jeffrey Hamelman's Bread: A Baker's Book of Techniques and Recipes, about a month ago. I loved it then, and have made it several more times since, to make sure the first time wasn't just beginner's luck. Nope; this one is a real winner. It's a plain, honest, not-too-sour sourdough with a touch of pumpernickel for depth of flavor. With a thin, crisp crust and soft but substantial crumb, this is now my go-to bread for everyday good eating, anytime, with anything.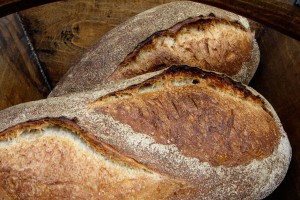 The original recipe calls for 125% hydration starter. I adjusted it to work with mine at 100%, and made a few other tweaks as well. I am calling it Norwich Sourdough, in honor of the home town of Hamelman's King Arthur Flour bakery. And this charming Vermont town, as it happens, was my home, too, for five memorable years.
Norwich Sourdough
(adapted from Vermont Sourdough in
Bread: A Baker's Book of
Techniques and
Recipes
by Jeffrey Hamelman)
Yield
: 2 kg (four or five small, or two large, loaves)
Time:
Mix/autolyse: 35 minutes
First fermentation: 2.5 hours
Divide, bench rest, and shape: 20 minutes
Proof: 2.5 hours (or 1.5 hours, then retard for 2 – 16 hours)
Bake: 35 minutes
Desired dough temperature: 76F
Ingredients:
Method:
In the bowl of a stand mixer, mix the flours, water, and starter on low speed until just combined, about one minute.
Let the dough rest (autolyse) for 30 minutes.
Add the salt and continue mixing on low or medium speed until the dough reaches a medium level of gluten development. This should only take about 3 or 4 minutes.
Transfer the dough to an oiled container (preferably a low, wide one so the dough can be folded without removing it from the container).
Ferment at room temperature (72F – 76F) for 2.5 hours, with folds at 50 and 100 minutes.
Turn the dough out onto a lightly floured counter. Divide it into 400g – 500g pieces. I usually make four 400g loaves and refrigerate the rest to use for pizza dough later. Preshape the dough pieces into light balls.
Sprinkle the balls lightly with flour, cover loosely with plastic, and let rest for 15 minutes.
Shape into batards and place seam-side-up in a floured couche or linen-lined bannetons.

Slip the couche or bannetons into a large plastic bag or cover with plastic wrap and proof at room temperature for 2 – 2.5 hours. Alternatively, the loaves can be proofed for about 1.5 hours at room temperature, then refrigerated for 2 – 16 hours and baked directly out of the refrigerator; this will yield a tangier bread with a lovely, blistered crust.
Meanwhile, preheat the oven, with baking stone, to 475F. You will also need steam during the initial phase of baking, so prepare for this now.
Turn the proofed loaves onto a semolina-sprinkled peel or parchment. Slash each one with two overlapping cuts that are almost parallel to the long axis of the batard.

Once the loaves are in the oven, turn the heat down to 450F. For 400g loaves, bake for 12 minutes with steam, and another 15 – 18 minutes without steam. I leave the oven door cracked open a bit for the last 5 minutes of this time. The crust should be a deep brown. Then turn off the oven and leave the loaves in for 5 minutes longer, with the door ajar, to help them dry. Larger loaves will need to be baked longer.
Cool on a wire rack. Don't cut until the loaves are completely cool, if you can manage it!