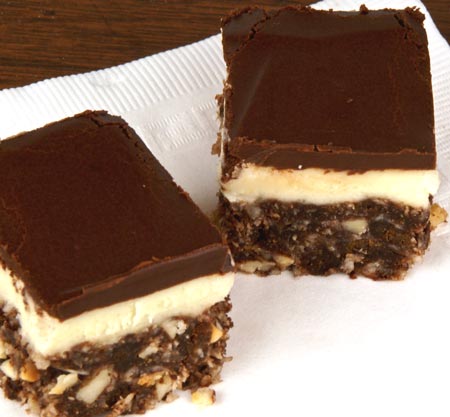 The January 2010 Daring Bakers' challenge was hosted by Lauren of Celiac Teen. Lauren chose Gluten-Free Graham Wafers and Nanaimo Bars as the challenge for the month. The sources she based her recipe on are 101 Cookbooks and www.nanaimo.ca.
There isn't much gluten-free baking around here — in fact, I'm usually all about the gluten. I have to admit there was a little scene playing out in my mind as I prepared these gluten-free graham wafers, my first foray into a world where wheat flour is taboo and things like sweet rice flour, sorghum flour, and tapioca flour rule the oven.
If anyone asked for a taste, I would, with shuffling feet and downcast eyes, stammer out an apologetic explanation for why these tasted more like graham cracker box than graham crackers.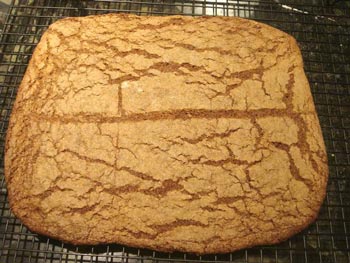 Well. As Gomer Pyle would say, "Surprise! Surprise! Surprise!" The wafers tasted fantastic — just like "real" graham crackers, only better. Even though I was in a rush and messed them up — well of course I did, this is a DB challenge, isn't it? — by not letting them chill thoroughly, so it was impossible to cut them into squares and they (it) ended up looking like a giant ginger snap — even then I found myself wishing I'd made a full batch instead of just the half I'd need most of for the Nanaimo bars. I actually wanted to eat these.
As for the Nanaimo bars, the bottom layer — graham wafer crumbs, finely grated unsweetened coconut, and toasted almonds, in a butter/sugar/cocoa powder matrix — was quite wonderful. I wasn't overly fond of the creamy middle, as it was a bit too sweet, but the top layer was good too (it's hard to go wrong with chocolate).
I don't know if I'll make the Nanaimo bars again, but the graham wafers are a definite go. Here is Lauren's gluten-free adaptation of  the graham cracker recipe on 101 cookbooks, which was taken from Nancy Silverton's Pastries from the La Brea Bakery. Thanks, Lauren!
Gluten-Free Graham Wafers
Ingredients:
1 cup (138 g) (4.9 ounces) Sweet rice flour (also known as glutinous rice flour)
3/4 cup (100 g) (3.5 ounces) Tapioca Starch/Flour
1/2 cup (65 g) (2.3 ounces) Sorghum Flour
1 cup (200 g) (7.1 ounces) Dark Brown Sugar, Lightly packed
1 teaspoon (5 mL) Baking soda
3/4 teaspoon (4 mL ) Kosher Salt
7 tablespoons (100 g) (3 ½ ounces) Unsalted Butter (Cut into 1-inch cubes and frozen)
1/3 cup (80 mL) Honey, mild-flavoured such as clover
5 tablespoons (75 mL) Whole Milk
2 tablespoons (30 mL) Pure Vanilla Extract
Method:
In the bowl of a food processor fitted with a steel blade, combine the flours, brown sugar, baking soda, and salt. Pulse on low to incorporate. Add the butter and pulse on and off, until the mixture is the consistency of a coarse meal. If making by hand, combine aforementioned dry ingredients with a whisk, then cut in butter until you have a coarse meal. No chunks of butter should be visible.
In a small bowl or liquid measuring cup, whisk together the honey, milk and vanilla. Add to the flour mixture until the dough barely comes together. It will be very soft and sticky.
Turn the dough onto a surface well-floured with sweet rice flour and pat the dough into a rectangle about 1 inch thick. Wrap in plastic and chill until firm, about 2 hours, or overnight.
Divide the dough in half and return one half to the refrigerator. Sift an even layer of sweet rice flour onto the work surface and roll the dough into a long rectangle, about 1/8 inch thick. The dough will be quite sticky, so flour as necessary. Cut into 4 by 4 inch squares. Gather the scraps together and set aside. Place wafers on one or two parchment-lined baking sheets. Chill until firm, about 30 to 45 minutes. Repeat with the second batch of dough.
Adjust the rack to the upper and lower positions and preheat oven to 350 degrees Fahrenheit (180 degrees Celsius).
Gather the scraps together into a ball, chill until firm, and reroll. Dust the surface with more sweet rice flour and roll out the dough to get a couple more wafers.
Prick the wafers with toothpick or fork, not all the way through, in two or more rows.
Bake for 25 minutes, until browned and slightly firm to the touch, rotating sheets halfway through to ensure even baking. Might take less, and the starting location of each sheet may determine its required time. The ones that started on the bottom browned faster.
[If making Nanaimo bars:] When cooled completely, place enough wafers in food processor to make 1 ¼ cups (300 mL) of crumbs. Another way to do this is to place in a large ziplock bag, force all air out and smash with a rolling pin until wafers are crumbs.