Sugar High Fridays. If you have a sweet tooth (and I admit it, yes, I do), it's hard to ignore this incredibly sumptuous and well-attended monthly sweet fest founded by Jennifer, The Domestic Goddess. But I bake bread, not desserts (Daring Baker challenges notwithstanding).
Even so , when I opened my inbox to discover an invitation from Zorra to participate in this month's event, Pudding, I really wanted to, because, well, it was an invitation from Zorra.
So I thought, let's see, pudding… There's chocolate, although last time I made it, the texture was, shall we say, suboptimal … I love rice pudding and I might not screw that up… or I could probably handle plum pudding for Christmas, but I don't really like it… [Fret, fret] what pudding can I make?
Duh.
Not an elegant dessert, but some serious comfort food.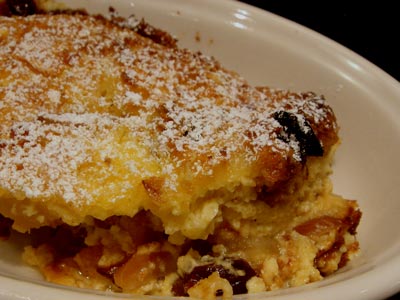 Panettone Bread Pudding with Almonds and Cherries
Yield: 8 – 10 servings
Ingredients:
One slightly stale loaf (about one pound) of panettone
1-1/3 c. dried cherries
1/3 c. Amaretto
2/3 c. blanched slivered almonds, toasted
5 eggs
5 egg yolks
4 c. whole milk
1 c. superfine sugar
1 tsp. vanilla extract
powdered sugar
Method:
Preheat the oven to 400F.
In a small saucepan, soak the cherries in the Amaretto for 20 minutes, then simmer until the Amaretto is evaporated/absorbed.
Slice the panettone into 1/3-to-1/2-inch thick rounds, and cut each round into four wedges.
Place the panettone wedges on a baking sheet and place them under the broiler for about 2 minutes, until they are toasted.
Butter a shallow 3-quart baking dish and line it with half the panettone wedges.
Sprinkle the panettone with the cherries and the toasted almonds.
Layer on the remaining half of the panettone.
Whisk together the eggs, egg yolks, milk, superfine sugar, and vanilla extract. Pour over the panettone.
Bake for 40 – 45 minutes, until only slightly wobbly in the center.
Sift powdered sugar over the top before serving.