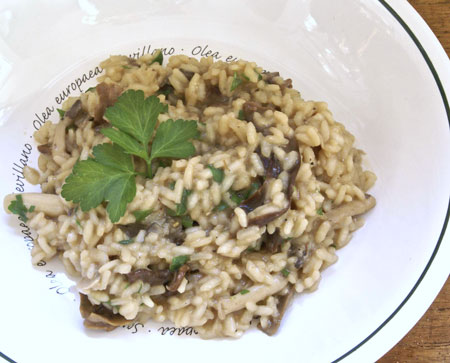 The 2010 March Daring Cooks challenge was hosted by Eleanor of Melbourne Food Geek and Jess of Jess the Baker. They chose to challenge Daring Cooks to make risotto. The various components of their challenge recipe are based on input from the Australian Masterchef cookbook and the cookbook Moorish by Greg Malouf.
This is the point where I am in the habit of making excuses: excuses for why I opened a bottle of wine approximately 15 minutes after rolling out of bed, for why I'm eating mushroom risotto by myself for breakfast on a Sunday morning, for why I waited until the last possible moment to complete the Daring Cooks assignment for this month.
No excuses today. It's just what I did.
In my defense, I will say that I did complete the most involved segment of the challenge, making chicken stock from scratch, well in advance, and had it standing by in the freezer. This was a first for me, and I loved the result.
I've made risotto before, and felt comfortable enough with the basic process to feel my way to a mushroom and goat cheese version. (I know, how uncharacteristic of me to demonstrate any sort of independence in these challenges. I don't know myself any more.) Starting with the given recipe, I made these (allowed, I hope) modifications:
I added 1/2 ounce dried porcini mushrooms and 6 ounces of fresh mixed wild mushrooms (oyster, shiitake, and some other kind).
I simmered the porcini mushrooms in a cup of the stock for 20 minutes, and added the cooking liquid back to the stock for the risotto. The volume was short due to the absorption of some of the liquid by the mushrooms, so I made it up with hot water.
I added the fresh mushrooms after the wine, and the hydrated porcinis after the risotto was done cooking.
To finish, I added 2 ounces of crumbled goat cheese, a tablespoon of butter, 2 tablespoons of chopped parsley, and salt and pepper to taste.
Delicious!
Thanks to our hosts, who have inspired a host of risottos by Daring Cooks everywhere. Take a look.
P.S. It seems I can't avoid excuse-making altogether. The wine was for the risotto, people.