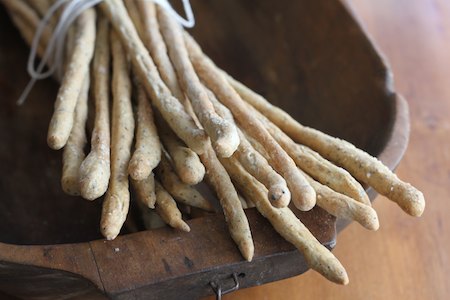 I have sung the praises of grissini (thin crisp bread sticks; literally "little snakes") many times before, but let's review: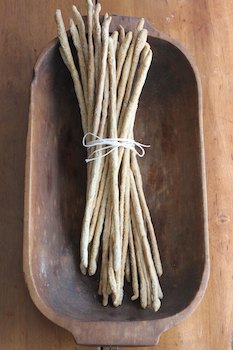 simple to make
easy to vary with different flours, toppings, etc.
look striking in a bouquet or bundle
great party food; no slicing!
lots of dough hands-on time, and much more satisfying than Play-Doh
disappear quickly
satisfy the "crunchy" food group daily requirement
Sesame and fennel seeds are classic for grissini, but I find I have trouble making mine stay on. I solved that problem here by putting the seeds into the dough rather than on top. (Coarse salt, however, always belongs on top!) Mixing the dough in the food processor, as I've done here, chops the seeds, so if you prefer them whole, mix by hand or in a stand mixer.
Buon appetito!
Seed Grissini
Yield: 32 grissini
Time:
Mix: 5 minutes
First fermentation: about 1 hour
Shape: 10 minutes per sheet of 16
Bake: 30 minutes per sheet of 16
Dough Ingredients:
312 g flour
4.5 g (3/4 teaspoon) salt
3.2 g (generous 1 teaspoon) instant yeast
8.5 g (1 tablespoon) sesame seeds
7.5 g (1 tablespoon) black sesame seeds
2.5 g (1 teaspoon) fennel seeds
2.5 g (1 teaspoon) anise seeds
198 g cold water
14 g olive oil
Topping Ingredients:
Method:
In the bowl of a food processor with the metal blade, combine the flour, salt, yeast, and the sesame, black sesame, fennel, and anise seeds. Pulse to combine.
In a liquid measuring cup, combine the water and the olive oil. With the processor running, add the liquids to the dry ingredients in a thin stream.
Continue processing until the dough more or less holds together, and for about 30 seconds beyond that. The total processing time should be about 90 seconds.
Give the dough a few turns by hand on the counter to form it into a smooth ball.
Transfer the dough to a lightly oiled, covered container. Ferment at room temperature until the dough doubles in volume, about 1 – 1.5 hours.
Meanwhile, preheat the oven to 350F and line two baking sheets with parchment paper.
Divide the dough into two pieces. While working with the first piece, cover and refrigerate the other.
On a lightly floured counter, pat/stretch/roll the dough into a rectangle of roughly 8 x 4 inches. The exact dimensions are not critical, but it should be uniformly thick.
With a pizza cutter or chef's knife, cut the dough into 16 strips of approximately 1/2-inch. Stretch or roll each strip to the length of your baking sheet.
Brush the grissini with olive oil and sprinkle with coarse salt.
Bake for about 30 minutes, until lightly browned.
Cool on a wire rack.