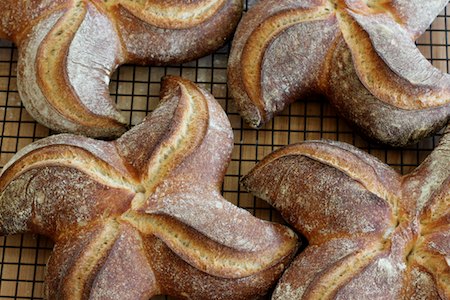 The three B's (baguettes, batards, and boules) are classic, but maybe you want to mix up your loaf shapes now and then. Pinwheel loaves are an easy and fun change of pace. They are also good for people with fear of scoring, as no blade is required. They are not good for keeping birds away from your vegetable garden, however.
The loaves here are Norwich Sourdough, but you can use this technique with any medium-hydration dough. The shape is essentially two fendu loaves twisted in their centers and placed at right angles to each other.
For each 500-gram loaf, divide the dough into two 250-gram pieces. Shape them into balls, cover, and let them relax for 20 minutes.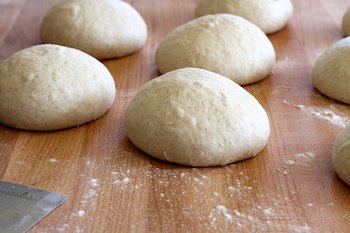 Shape the balls into batards and again let them relax for 20 minutes.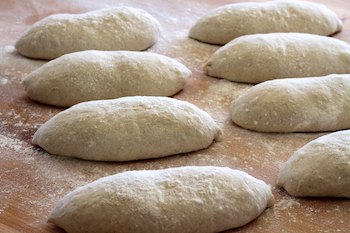 Flour the surface of the dough generously. Using a dowel or thin rolling pin, roll a 1-inch-wide "hinge" longitudinally in the center of the batard. Throw a little more flour into the gap between the halves.
Push the halves back together. Roll another hinge, about 2 inches wide, across the dough to split it into halves in the other direction.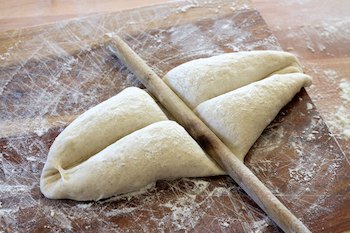 Twist the dough at the crosswise hinge so each half winds up cleft side up again.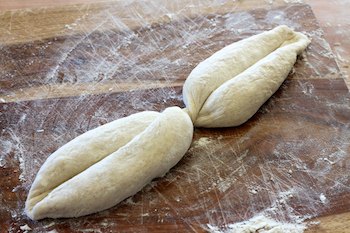 Turn the twisted fendu over and lay it (cleft side down) on a generously-floured linen. Repeat the above steps with a second batard and lay it (again cleft side down) at right angles to the first one so their centers overlap.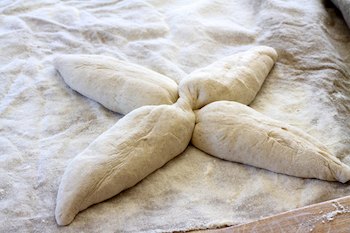 Gently curve each "blade" of the pinwheel. Cover and proof for as long as your dough calls for.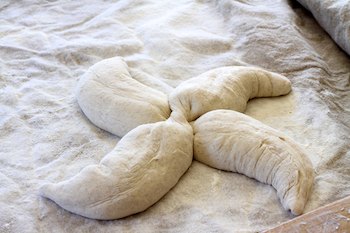 To transfer the proofed loaf to the peel, place the peel close alongside the loaf and lift the edge of the linen to flip the loaf onto the peel.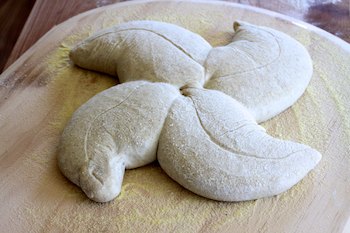 It is not necessary to score the loaf; it will open up at the clefts.
Les voilà!