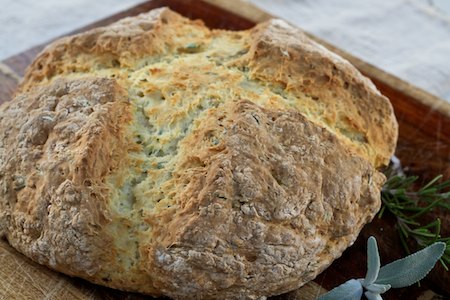 It seems we Bread Baking Babes were a busy bunch this month, so Ilva kindly provided us with a bread that is ever-so-quick but oh-so-delicious.
I love yeast, but it's a slowpoke, so soda bread (leavened by baking soda, imagine that!) can save the day if you need a bread fix fast. I got home from a busy work day at 5:30, and by 6:30 this fragrantly herby loaf was out of the oven, even though I had to take time to figure out the volume of a dessert spoon. (It's 2.4 teaspoons, but I used a tablespoon of each herb; other than that, I followed the recipe exactly.) The bright combination of sage, rosemary, and chives is perfect, but other herbs could work just as nicely.
You will probably never again find it as simple to become a Bread Baking Buddy as you'll have it with this bread, so go for it! Bake, blog, and send your link to Ilva before June 28, and you're in. And don't forget to check out the other Babes' breads (links on my lower right sidebar).