What is a recipe for a perfect Sunday morning? How about sourdough waffles followed by a trip to the reef at low tide?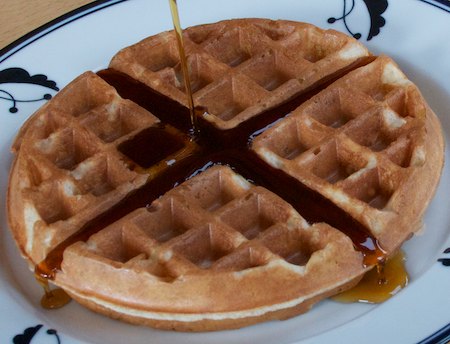 Good to eat on Sunday morning.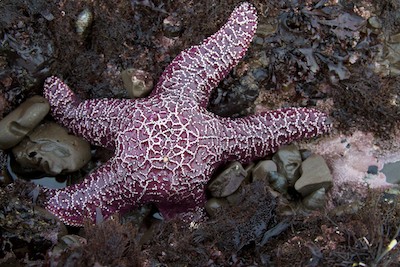 Not good to eat, but nice to look at on Sunday morning.
A waffle iron is a necessary contraption. Although I'm pretty good at jury rigging equipment, I haven't quite figured out how to make waffles without one.
I have a Cuisinart Belgian waffle maker and I love it. The surface is truly nonstick and it makes perfect waffles if I remember a few things:
Set the temperature of the iron properly to give a nice crisp exterior. On mine I have found that 5 1/2 (out of 6) is perfect.
Use the right amount of batter. This varies by what recipe I use. I have figured out that for my sourdough recipe, just a little more than one ladleful works. (Getting a bigger ladle seems like a logical step, doesn't it?)

This batter is thick, so I use a spatula to spread it out over the iron before closing it.

In my experience, a person can typically eat one or two waffles. This recipe makes about 5 waffles, so it works for 5 averagely-hungry people, or 2 1/2 ravenous ones. And the batter also makes wonderful pancakes!
Sourdough Waffles
Yield: 5 waffles
Time:
Mix: 5 minutes
Cook: 10 minutes
Ingredients:
511 grams mature 100%-hydration sourdough starter
2 whole eggs at room temperature
2 tablespoons maple syrup
2 tablespoons vegetable oil
1/2 teaspoon baking soda
1/2 teaspoon salt
1 teaspoon baking powder
Method:
Combine all of the ingredients, whisking gently until incorporated but being careful not to overmix.
Cook the waffles according to your waffle maker's instructions.
Now get out and enjoy some fresh salt air!