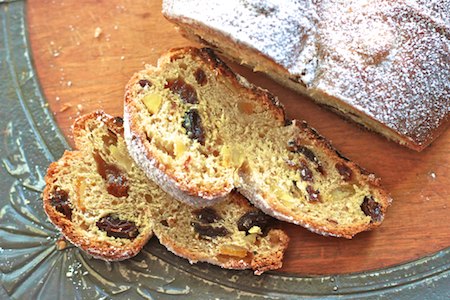 Today is December 16, 2011. Is this an important date because …
A) It's the posting (and my hosting) day for the Bread Baking Babes
B) I get married today
C) Both of the above, and by the time you read this I will have pulled the Stollen from the oven, dusted the flour off my dress, and made my way to City Hall to exchange vows with my beautiful, brilliant, sweet, funny, gentle, loving…
Ahem. Back to the Stollen. A perfect choice for this month, because it practically makes itself, leaving us Babes to occupy our minds with… whatever other things we may wish to occupy them with.
Stollen is one of my favorite holiday breads, and quite easy to make. It is a traditional bread from Dresden, Germany, and the shape is said to represent the swaddled child in the manger. You kind of have to use your imagination to see this.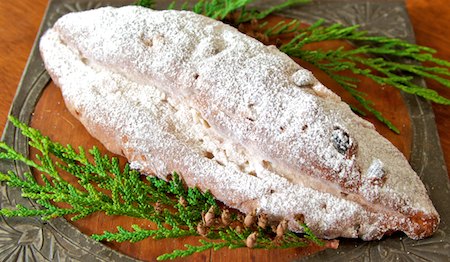 Mixing the dough is simple if you have a stand mixer with a dough hook, although it takes some time. Just throw the ingredients in the mixer, turn it on, and go buy a wedding dress or something.The dough will be ready when you get back.
Mixing by hand is doable, but be prepared for a workout — the dough is stiff, and should be kneaded until the gluten is well-developed, which takes longer than lean breads because of the fat and sugar in the dough. In either case, leave out the rum-soaked fruits until the gluten has developed sufficiently, then add them and mix only until they are just evenly incorporated.
This recipe makes three loaves of about a pound each. You can make the loaves larger or smaller as you like. To shape each loaf, form the dough into a blunt batard.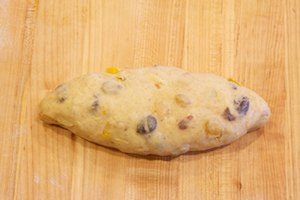 Use a small rolling pin (a broomstick or drumstick works in a pinch) to divide the dough into two sections, just off-center. Roll a thin flap of dough about 2 inches wide (larger or smaller depending on the overall amount of dough you're using) connecting them.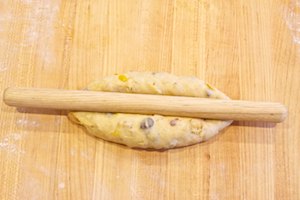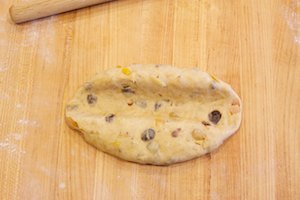 Flatten the larger section slightly with your hand, and flip the smaller section up onto the larger one. It helps to overshoot the center so the small section does not fall back down during baking. To keep Jesus from falling out of the manger, seal the dough lightly along the bottom of the small section, on the "closed" side.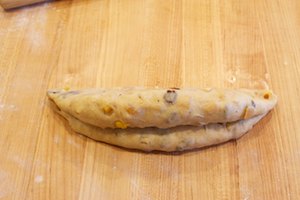 The recipe calls for candied orange and lemon peels. I like making my own; it's easy, cheap, and not as syrupy as what we can buy in the stores here.
I like to use osmotolerant yeast for sweet breads, but you can certainly get by without it; in fact, the loaf I made here is with regular instant yeast. I've given the amounts for active dry and fresh yeast, too. And no, I didn't make any typos; it really does call for a large amount of yeast!
We need clarified butter for the finishing. If you haven't done this before, it's easy. A few tablespoons is enough for the stollen. Melt unsalted butter in a small pan. With a ladle, skim off the light yellow foamy part so you have the golden liquid part with some solids at the bottom. Either pour off the liquid carefully so the solids remain in the pain, or strain it though a very fine mesh or cheesecloth-lined strainer.
Even if you have lots of other things on your mind, I hope you'll join us by baking Stollen and being a Bread Baking Buddy. Send me the link to your Stollen by November 29 to be included in the Buddy roundup.
Stollen
Yield: 1500 grams (3 loaves, more or less)
Time:
Candy and dry citrus peel: 12 hours or more (can be done ahead)
Soak the fruits: 12 hours
Mix and ferment sponge: 12 hours (can be simultaneous with fruit-soaking)
Mix dough: 20 – 30 minutes
First fermentation : 30 minutes
Preshape, rest, and shape: 30 minutes
Proof: 90 minutes
Bake: 30 minutes
Sponge Ingredients:
120 grams flour
80 grams water
0.1 gram (small pinch) instant yeast [or 0.13 g active dry, or 0.25 g fresh]
Soaked Fruit Ingredients:
130 grams raisins
75 grams dried cherries (or more raisins, or chopped dried apricots, or a combination)
61 grams candied orange peel
92 grams candied lemon peel
82 grams slivered almonds
34 grams rum
Final Dough Ingredients:
348 g flour
53 g milk
25.3 grams (2 Tablespoons + 2 teaspoons) instant yeast [or 18.6 g osmotolerant, or 31.6 g active dry, or 63.3 g fresh]
8 g (1-1/3 t.) salt
8 g (2-1/3 t.) diastatic malt powder (omit if you don't have it)
51 g sugar
50 g egg (about one large egg)
5 g grated lemon zest (one average lemon)
5 g grated orange zest (one small orange)
1/3 t. of each of these ground spices: cinnamon, cardamom, cloves, allspice, nutmeg
273 g unsalted butter, at room temperature (should be pliable)
all of the sponge
all of the soaked fruits
Finishing Ingredients:
clarified butter
fine granulated sugar
powdered (confectioner's) sugar
Method:
Toss the soaker fruits with the rum in a medium bowl. Cover and leave at room temperature for about 12 hours.
Meanwhile, combine the sponge ingredients in another medium bowl. Cover and ferment at room temperature for 12 hours.
In the bowl of a stand mixer with a dough hook, combine all of the final dough ingredients except the soaker. Mix in slow speed until all the ingredients are incorporated.
Continue mixing in medium speed until the gluten reaches full development. The dough should come together around the hook and should no longer stick to the sides and bottom of the bowl. This could take about 25 minutes or more, but will depend on your mixer.
Add the soaked fruits and mix on slow speed just until they are evenly distributed through the dough.
Transfer the dough to a lightly buttered container. Cover and ferment for 30 minutes at room temperature.
Turn the dough onto the counter. Divide into three pieces, or however many you would like. Preshape the dough into balls and let them rest, covered, for 30 minutes.
To shape each loaf: Form a blunt-ended batard and dust it lightly with flour. With a thin rolling pin, press down firmly, separating the dough into two parts with one slightly larger than the other. Roll out the flap of dough connecting the sections so it is about 2 inches wide. Flatten the larger section slightly with your hand, then fold the smaller section over to rest on the larger one.
Place the loaves on parchment-lined baking sheets (two per sheet) and slip them into a large plastic bag with a bowl of warm water. Proof for about 90 minutes, replenishing the water when it cools.
Meanwhile, preheat the oven to 375 on convection setting or 400 on regular bake setting. You will also need steam during the initial phase of baking, so prepare for this now.
Bake for 10 minutes, open the oven door briefly to allow any remaining steam to escape, and bake for another 20 minutes. If you do not have convection, you may need to rotate the position of the baking sheets halfway through the bake to ensure even browning and keep the one on the lower rack from burning on the bottom.
While the loaves are still warm, brush them with clarified butter. Dredge them in fine granulated sugar, brushing or shaking off the excess.
To finish, sift powdered sugar over the loaves.
Cut when completely cool. You can leave the stollen out overnight to let the loaves dry and the sugar crust up a bit.