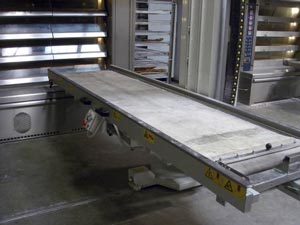 This is a loader.
It's what we use at SFBI to deliver about 20 loaves at a time into the deck oven without harming one strand of gluten on their pretty little heads. This canvas conveyor belt does a great job of ensuring, for example, that our lovely pear-shaped loaves don't wind up becoming oranges or bananas on their way into the oven.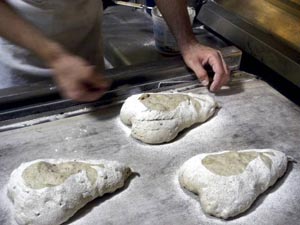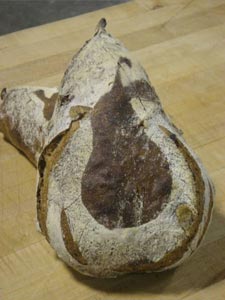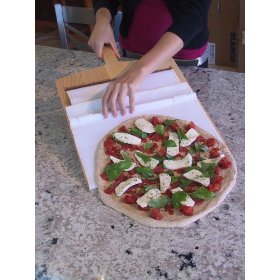 This is a Super Peel.
It's what you can use at home to pick up your own pears, pizzas, or pains de campagne and deposit them onto your baking stone equally unscathed. And although it's modeled after those big conveyor belts, it's far more versatile. The SFBI loader can't pick up a rolled-out pie crust from the counter and move it onto the pie dish, or transfer a freshly-ganached cake from wire rack to serving plate, but the Super Peel is great for these tricky jobs.
Check out videos of the Super Peel in action at the Super Peel website.
Thanks to Gary Casper, Super Peel's inventor, you can have a chance to win a Super Peel (your choice of original maple or gorgeous new butternut) just by being a US resident and leaving a comment here by 11:59 PDT on Friday, October 23. Gary will even upgrade to a gift set — including a cloth storage bag and an extra cloth belt — if the comment I pick at random is super good (as judged by me).