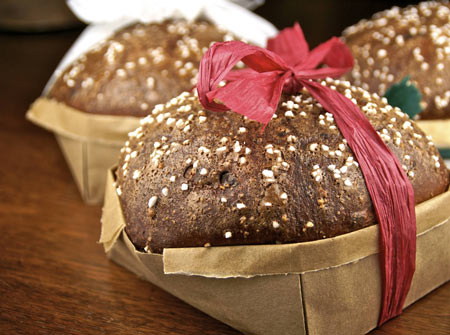 I had three goals in making this Chocolate Panettone, a new bread for me:
To make a panettone that my daughter would like. M has an inexplicable dislike of fruit in bread, (indeed, in most baked things; this is inexplicable because she is my flesh and blood). Although fruitless chocolate panettone is not traditional, I have seen it now and then, and I thought M might give it a thumbs-up.
To bake a panettone that, unlike the wild yeast one I usually bake (and love), does not take a good 30 hours to make. While that is a delicious panttone that keeps quite a long time, and the weekend-long process is starting to feel like a necessary holiday ritual for me, sometimes you just can't invest that kind of time, and why should that have to mean going without home-baked panettone completely?
To try my idea of making folded paper baskets to bake the bread in. You can of course buy paper panettone molds and other decorative, bake-in-to-give-away, paper "pans," but they're expensive (and I just like to make things).