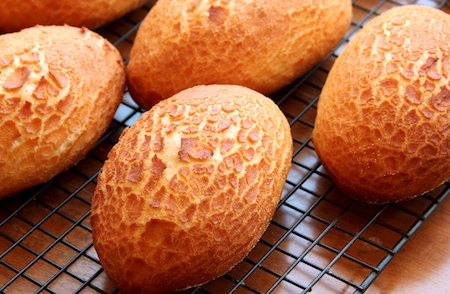 Yes, I am delinquent Babe. I have no excuse for being two days late with these wonderful Viennese rolls that our wonderful Viennese Astrid assigned to the Bread Baking Babes this month.
If they don't look exactly Viennese on the outside, it's because I chose to apply the "Dutch crunch" topping suggested by Peter Reinhart, from whose book, The Bread Baker's Apprentice, Astrid selected this recipe. So these little torpedoes are crispy crackly on the outside, soft and fluffy inside, and lightly sweet throughout — a very nice treat for breakfast or tea.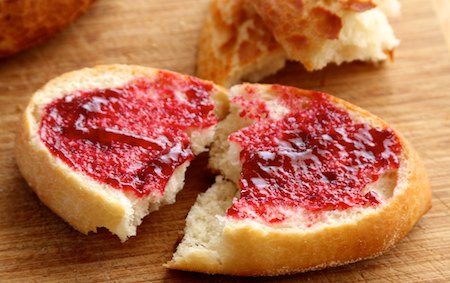 I followed the recipe faithfully, except that I folded the dough twice during its two hour bulk fermentation because I could not get the gluten to develop as much as I would have liked during mixing. After shaping the dough into nine rolls of approximately 105 grams each, I proofed them in a couche for the first 30 minutes. Then I arranged them on parchment and applied the topping (I needed to add a little more water to achieve a brushable consistency) and continued to proof for another hour.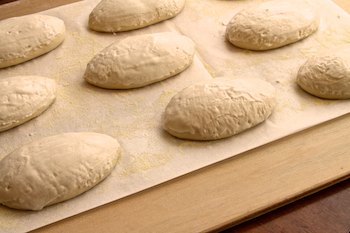 Now, although I love the way my crunchy rolls turned out, I'm admiring the Kaiser roll variation that many of the other Babes opted for, and thinking I must do that soon. Our Katie has rounded up all the non-delinquent Babes this month, and links to all the Babes, both good and bad, are in my lower right sidebar. If you too would like to bake Viennese style, send your bread to Astrid by August 29 to be included in the Buddy roundup.