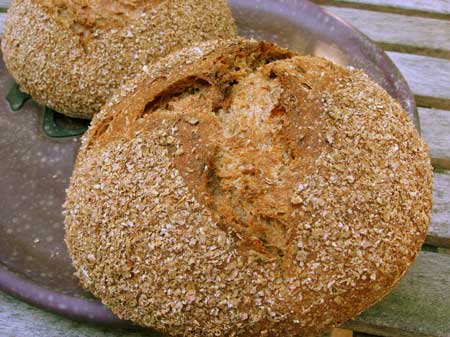 Did you look at the title of this post and think you were going to get something along the lines of one of those glossy magazine articles on how to live fashionably on a budget by taking a single outfit from the office to the evening with the simple addition of a few well-chosen accessories? (You know, the ones where you start with one ridiculously-priced suit, replace the businesslike button-down blouse with a silk décolleté cami, add the diamond necklace, Fendi bag, and Blahnik stiletto slides, and you're good to go? Bargain city.)
Sorry to disappoint, but this isn't exactly that. It is the decidedly less glamorous story of how I made two breads with EXACTLY the same ingredients (no baker's diamonds here), the first only so-so and the next a bit better, by paying closer attention and changing just a couple of things in my method.
I hope it's obvious that the plump loaf in the photo above is the Better bread, while this flattened one is the So-So: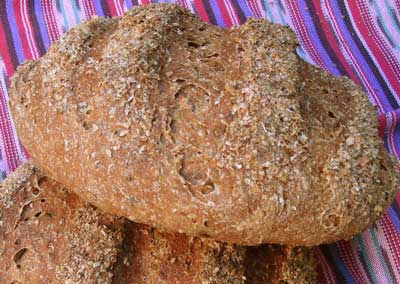 In case you're not convinced, compare these slices: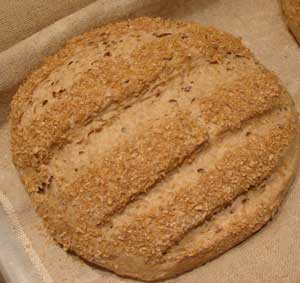 So huh? Well for one thing, Bread So-So proofed too long. A big clue to this was that the dough was already starting to fall apart by the time I put it into the oven (see the breaks on the surface, between the slashes?) Virtually no oven spring was another tip-off.
By paying more attention the second time around, I was able to get Bread Better into the oven after a more appropriate proof time. The day I baked Better was considerably cooler than the first time around, so fermentation was slower, and the actual clock time was not all that much shorter. Taking temperature into account, though, I'd say So-So proofed about 50% more than Better.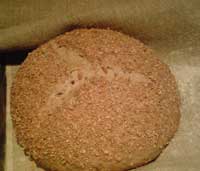 My other mistake was being too slash-happy on Bread So-So. Too many, and too deep, which allowed the loaves to spread out excessively. A more moderate approach served Bread Better… well, better. (Note: on doughs with a very large proportion of whole wheat or rye flour it helps to slash before proofing, and to do it at a 90-degree angle to the surface of the loaf, rather than at an angle as for many other breads. Both So-So and Better got this treatment.)
Both breads tasted great, with an assertive sour flavor, moist (if dense – just the nature of the beast) crumb, and toothsome texture provided by the seeds.
Before the recipe, a note about the name/composition of this bread: The 1.6% white flour comes from the white starter I used to make the levain. If I were a purist, I would maintain a whole wheat starter in addition to my white one. Or at the very least I would have exercised a modicum of advance planning and converted a portion of my white starter to whole wheat a few days before making the bread. I often do that, but I didn't for these. Sosumi.
98.4% Whole Grain Seeded Sourdough

Yield: 1.1 kg (2 loaves)
Time:
Ferment levain and soak soaker: 8 – 12 hours
Mix final dough: 15 minutes
First fermentation : 1.75 – 2 hours, with a fold at 45 minutes
Divide, preshape, and rest: 35 minutes
Proof: 1 – 1.5 hours (or until done)
Bake: 40 minutes
Desired dough temperature: 77F
Levain Ingredients:
18 g ripe 100% hydration white starter
91 g whole wheat flour
73 g water
Soaker Ingredients:
21 g whole toasted flax seeds
21 g toasted sesame seeds
21 g bulgur
21 g rolled oats
79 g water
Final Dough Ingredients:
364 g whole wheat flour (I used Giusto's organic)
90 g whole rye flour (I used 45 g Giusto's organic and 45 g KAF organic pumpernickel)
346 g water
12 g salt
All of the levain
All of the soaker
Wheat bran or seeds for topping
Method:
In a medium bowl, mix the levain ingredients until just combined. Cover the bowl and let the levain ferment at room temperature for 10 – 12 hours.
In a small bowl, combine the soaker ingredients. Cover and let rest for 2 – 12 hours.
Place the final dough ingredients, except the soaker, into the bowl of a stand mixer. Mix on low speed until the ingredients are incorporated, about 4 or 5 minutes. The dough will be sticky and have a medium consistency.
Continue mixing on low or medium speed until the dough reaches a medium level of gluten development. This might take about 5 minutes, but will depend on your mixer.
Add the soaker and mix in low speed until it is just evenly incorporated into the dough.
Transfer the dough to an oiled container.
Ferment for 1.75 – 2 hours, with a fold after the first 45 minutes. The dough will increase about 50% in volume (honestly, I'm guessing here, I didn't measure it) and be light and spongy, but without large gas bubbles.
Divide the dough into two equal pieces of about 560 g each. Preshape the pieces into balls and let them rest, covered, for 30 minutes.
Shape the dough into balls. Roll the top of each ball on a wet towel to hydrate it, then in bran or seeds.

Place the loaves right-side-up in a couche. Slash each loaf about 1/2-inch deep, at a 90-degree angle to the loaf. Not too many slashes!
Proof, covered, for 45 minutes to one hour (may be longer if the room or the dough is very cool). The loaves should have increased noticeably but not dramatically in volume, and feel light but not spineless when you rest the palm of your hand on the surface.
Meanwhile, preheat the oven, with baking stone, to 475F. You will also need steam during the initial phase of baking, so prepare for this now.
Once the loaves are in the oven, turn the heat down to 450F. Bake for 8 minutes with steam, and another 22 minutes or so without steam. Turn off the oven and leave the loaves in for another 10 minutes, with the door ajar for the last 5 minutes of this time.
Cool on a wire rack. Wait until completely cool to cut and eat; best if you can wait at least 12 hours. To me it tastes best thinly sliced.