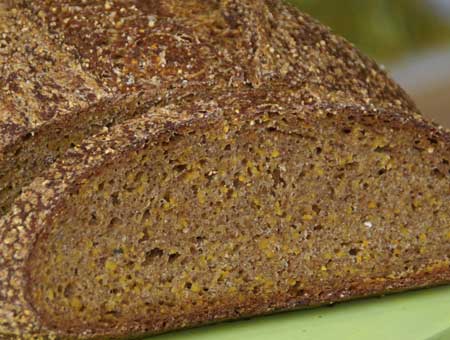 I've been a little accident-prone lately. Which is to say, careless. In the past five days I've managed to smash a tailbone, a toe, and a finger (I'm fine, really). Luckily, my latest accident involved no bodily injury and resulted in a very nice bread.
My intention was to use 400 grams of whole wheat sourdough starter in this whole-grain bread, but instead of weighing it out I blithely dumped in the whole lot of it, which I'm pretty sure was about 550 grams. By the time I realized the error of my ways, it was too late and there was nothing for it except forge ahead and see what developed.
As it turned out, the addition of the extra sourdough did not seem a bad thing at all. Gluten development is tricky to begin with in 100% whole-grain breads, and the inclusion of quite a lot of coarse polenta here did not help matters any, but the acidity in sourdough helps to reinforce gluten structure. Also, I found the combination of the sourness with the sweetness of the molasses to be interesting and delicious.
That said, there are a few things I might do differently on the next go-around:
Develop the gluten before adding the soaker, then mix just enough to incorporate the soaker. Adding the molasses to the soaker might be better also, to keep it out of the dough until the end but make it relatively easy to incorporate.
Decrease the first fermentation time and increase the proofing time. Although I don't mind the density of the bread, I think it could have handled a little more proofing.
Shape into two or three small batards rather than a boule. I like to be able to slice these dense breads very thinly, which is difficult with a broad loaf.
Pay attention.
If you aren't fond of heavily-textured breads that require some effort in the chewing, don't make this. However, for a little less crunch to the polenta, you could try hot water, and a little more of it, in the soaker.
This is my submission for BreadBakingDay #13, Whole Grain Breads, hosted by Jude (Apple Pie, Patis, and Paté) and founded by Zorra (1x umrühren bitte aka kochtopf).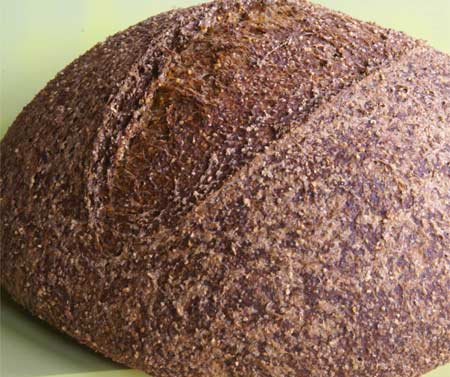 Whole Wheat – Polenta Sourdough
(This is the recipe as I made it. See notes above for possible modifications.)
Yield: 1500 g (one large boule)
Time:
Soak soaker: 8 hours (do this while you're elaborating your starter)
Mix final dough: 15 minutes
First fermentation : 1.75 hours with a fold at 50 minutes
Preshape, and rest: 30 minutes
Proof: 45 minutes
Bake: 70 minutes
Desired dough temperature: 77F
Soaker Ingredients:
200 g coarsely-ground polenta
200 g whole wheat flour
300 g water
Final Dough Ingredients:
200 g whole wheat flour
50 g water
16 g salt
550 g mature 100%-hydration whole wheat sourdough starter
All of the soaker
80 g molasses
Method:
In a bowl, combine the soaker ingredients. Cover and let rest for about 8 hours.
Combine all of the final dough ingredients. Mix by hand until the ingredients are incorporated. Adjust the water as needed to achieve a soft (and sticky) consistency.
Continue mixing by hand until the dough has reached a low level of gluten development. This might take about 10 minutes. You will probably not be able to pull a windowpane, but you should see definite strands of gluten in the dough. It will still be very sticky and will not have much elasticity.

Transfer the dough to a lightly floured container. Cover and ferment for 1.75 hours, with a fold after the first 50 minutes. The dough will increase about 50% in volume and feel spongy, but without large gas bubbles.
Turn the dough into a lightly floured counter. Preshape it into a ball and let it rest, covered, for 25 minutes.
Shape the dough into a tight ball and place it, right-side-up, on parchment or a floured board. Slash the loaf once across its full width, about 1/2-inch deep, at a 90-degree angle to the loaf.

Proof, covered, for 45 minutes.
Meanwhile, preheat the oven, with baking stone, to 425F. You will also need steam during the initial phase of baking, so prepare for this now.
Bake for 10 minutes with steam, and another 45 minutes or so without steam. Then turn off the oven and leave the loaves in for another 15 minutes, with the door ajar.
Cool on a wire rack.