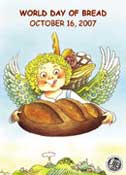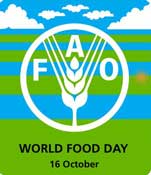 Today is World Bread Day. The International Union of Bakers and Bakers-Confectioners designated this day to celebrate and honor the food that is, in many phraseologies, synonymous with "food." So it is no accident that World Bread Day was chosen to coincide with Word Food Day, October 16, the anniversary of the founding of the Food and Agriculture Organization (FAO) of the United Nations.
The theme for World Food Day 2007 is "The Right to Food." The FAO's message is that regular access to sufficient, nutritious, culturally appropriate food is a basic human right that is currently denied to 850 million people worldwide.
The recipe is coming, I promise. But first:
As we bake today and every day, let's remember the people who do not have enough bread, enough sustenance to see them safely through another day. Does that mean we should not enjoy the process and product of our baking? Of course not. But maybe it means that we should, by whatever means and in whatever measure we are able, contribute something towards ending hunger.
We can contribute money, time, a link on our blog, whatever, to organizations such as The Hunger Project, dedicated to empowering people to feed themselves. We can contribute our vote, or whatever political power we hold, to supporting government policies that promote freedom from hunger as a fundamental human right.
And let's always remember to count our blessings.
As part of World Bread Day, Zorra of Kochtopf invited everyone to bake (or break) bread. I initially had it in my mind to bake my Favorite Bread, or the Quintessential Bread, or the Most Nutritious Bread I know. Then I realized that it would be impossible to pick a single bread that would fulfill any of those superlatives.
So I decided instead to simply make a bread I hadn't made before, because the thing I just might love the most about baking is that there's always something new to try. And what a blessing, to have the resources and the freedom to bake, to try new things, not because I have to, not because my survival depends upon it, but just because I enjoy it. What a rich blessing indeed.
Sweet Potato Sourdough with Pumpkin Seeds

Yield: 1.4 kg (two medium boules)
Time:
Mix: 15 minutes
First fermentation: 1.5 hours
Divide, bench rest, and shape: 30 minutes
Proof: 2 hours at room temperature plus 8 – 12 hours in the refrigerator
Bake: 50 minutes
Desired dough temperature: 76F
Ingredients:
400 g high-extraction flour (I used Heartland Mill's Golden Buffalo)
177 g water
533 g ripe 100% hydration sourdough starter
14 g salt
200 g mashed baked sweet potato pulp (cooled)
133 g toasted pumpkin seeds, plus, optionally, more for the crust
Method:
In the bowl of a stand mixer, mix all ingredients except pumpkin seeds on low speed until combined, about 5 minutes. Adjust the amount of water to give the dough a medium consistency.
Continue mixing on low or medium speed until the dough reaches a medium level of gluten development. This may take about 5 minutes, but will depend on your mixer.
Add the pumpkin seeds and mix on low speed just until they are evenly distributed through the dough.
Transfer the dough to an oiled container.
Ferment at room temperature (72F – 76F) for 1.5 hours.
Turn the dough out onto a lightly floured counter and divide it into two pieces. Preshape the pieces into balls.
Cover the dough loosely and let it rest for 25 minutes.
Shape the dough into tight balls and place seam-side-up in linen-lined bannetons. Or, for a pumpkin-seed-encrusted loaf, roll the smooth side of the ball on a wet towel to hydrate it, then roll it in seeds. Place it, seeds down, into a lined but unfloured banneton.
Slip the bannetons into a large plastic bag and proof at room temperature for 2 hours. The dough should have increased noticeably in volume but not be completely proofed.
Place the bannetons (still in plastic bag) in the refrigerator for 8 – 12 hours.
Remove the loaves from the refrigerator about an hour before you plan to bake them.
Preheat the oven, with baking stone, to 475F. You will also need steam during the initial phase of baking, so prepare for this now.
Score the boules as you like. I left the seeded one unscored and let it "break" naturally.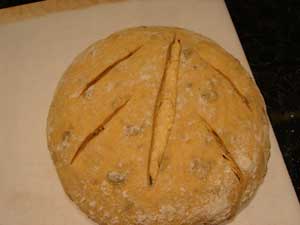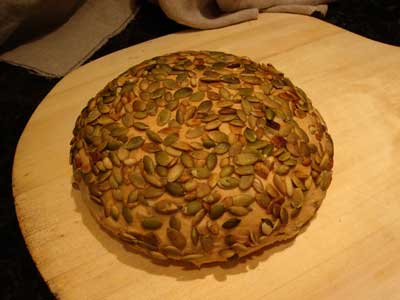 Once the loaves are in the oven, turn the heat down to 450F. Bake for 15 minutes with steam, and another 15 minutes without steam. Then turn off the oven and leave the loaves in for 10 minutes with the door closed, and another 10 minutes with the door ajar.
Once the loaves have cooled completely on a wire rack, slice the bread to discover a lovely and unusually golden crumb.