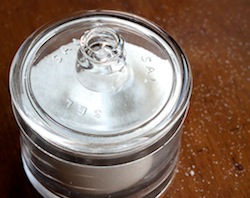 A recent commenter on one of my recipe posts remarked: "… my dough was very sticky not coming together. … Thinking it must be too wet, I added a little more flour to no avail. Then I realized I had forgotten to add the salt. Shortly after adding the salt the dough came together well. Is this coincidental, or does salt play more than a flavor enhancing role? "
This was absolutely not coincidental. Considered to be one of the four essential bread ingredients (along with flour, water, and yeast), salt does indeed do something more than loafing around and tasting good.
Salt affects dough texture, making it stronger and less sticky, as the commenter noticed.
Salt reduces oxidation of the dough during mixing. Oxidation causes the degradation of carotenoid pigments in the flour that contribute to flavor and crumb color.
Salt regulates yeast activity, causing fermentation to progress at a more consistent rate.
Salt affects shelf life. Because it attracts water, it can help keep bread from staling too quickly in a dry environment. However, in a humid environment, it can make the crust soggier.
All of that said, the primary role of salt in bread remains to enhance flavor. If you're on a low-sodium diet, I wouldn't discourage you from experimenting with reducing the salt in your doughs, or making a saltless Tuscan bread; just be aware that your dough is likely to be stickier and the fermentation time might need adjusting.
Typically the amount of salt in a dough is between 1.8 and 2 percent of the amount of flour, by weight. If there is a large proportion of other ingredients, such as seeds, for which salt also enhances flavor, the percentage of salt could be a little higher.
Some people say non-iodized salt is best, but I haven't noticed a difference between iodized and non-iodized in the finished product. If you use Kosher salt, remember that it's "fluffier" than table salt, so you'll need more by volume (although by weight you'd still use the same amount — and we're all measuring by weight, aren't we?)