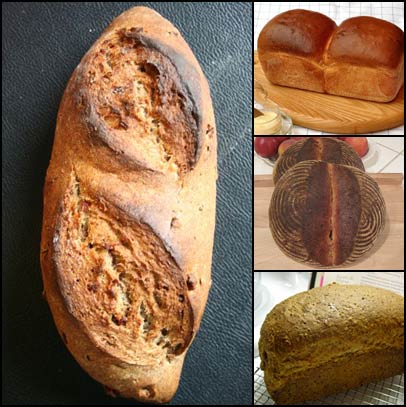 YeastSpotting is one year old. I asked you to help me make this a big celebration, and wow, did you deliver!
Thank you thank you thank you to everyone who has sent loaves, rolls, pastries, pizzas, and so many more lovingly-baked breads, this week and every week for the past year. Thank you for deeming YeastSpotting worthy of your tremendous talent and effort. Thank you for making YeastSpotting happen.
YeastSpotting is a weekly showcase of yeasted baked good and dishes with bread as a main ingredient. For more bread inspiration, and information on how to participate, please visit the YeastSpotting archive
.
Loaves and Rolls

The Lost World of Drfugawe

Living in the Kitchen with Puppies

The Fresh Loaf: dmsnyder"s blog

sourdough and all things bread!

1x umrühren bitte aka kochtopf

Flatbreads, Filled Breads, and Savory Pastries

blog from OUR kitchen (etherwork.net)

Sweet Breads and Pastries

Musings From The Fishbowl

inlovewithfood.blogspot.com