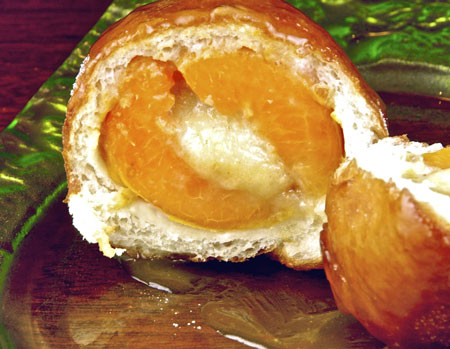 If anyone can tell me what to call this, please speak up.
Here we have a whole fresh apricot filled with almond cream, wrapped in lightly sweet yeast dough and deep fried. Topped with rum sauce if you like your… thing… extra decadent.
Is it a dumpling? Every definition I could find says a dumpling is either boiled, baked, or pan fried; not deep fried. But then, I am certainly no dumpling expert.
Is it a fritter? Fritters are deep fried yes, but aren't they batter, not dough? Clearly I'm no fritter expert either.
Is it a bread? Well, this dough does contain yeast, and I am sending it to Nick (imafoodblog) and Zorra (1x umrühren bitte) for BreadBakingDay #23 (theme: something you haven't made before), but it's a stretch, isn't it?
How about a filled doughnut? When I brought these to work, one person pronounced it "the best doughnut I've ever had." I hadn't thought of them as doughnuts, but she knows more about food than I do.
So what do you think? I'm open to other suggestions too. In the meantime, I'm just going to go ahead and call them fritters because I just enjoy saying the word.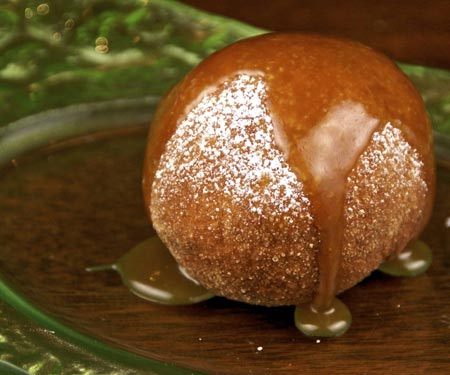 Apricot Fritters
Yield: 16 fritters
Time:
Mix : 10 minutes
First fermentation : 2 hours
Shape: 15 minutes
Proof: 2 hours
Fry: about 15 minutes
Dough Ingredients:
150 g flour
250 g cake flour
3 g (1 t.) instant yeast
10 g (1 2/3 t.) salt
50 g fine granulated sugar
100 g eggs at room temperature
50 g butter, softened
100 g cold milk
200 g mature 100%-hydration sourdough starter
Filling Ingredients:
16 whole fresh apricots
53 g butter, softened
53 g fine granulated sugar
53 g almond flour (ground almonds)
16 g flour
1/4 t. rum
about 2 t. milk
Rum Sauce Ingredients:
110 g brown sugar
57 g butter
60 g heavy cream
1 T. dark rum
1/4 t. cinnamon
Other Ingredients:
neutral, high-heat oil, such as peanut or safflower, for deep frying
powdered sugar for dusting
Method:
In the bowl of a mixer with a dough hook, combine the dough ingredients. Mix in low speed until combined.
Continue mixing in medium speed to a low-medium level of gluten development.
Transfer the dough to a lightly buttered container. Cover and ferment for 2 hours at room temperature.
Meanwhile, prepare the almond cream. Cream together the butter and sugar, then add the almond flour, flour, rum, and enough milk to yield a cream-cheese-like consistency. Refrigerate until needed.
When the dough is almost finished proofing, cut the apricots in half and remove the pits.
Place about one teaspoon of filling into the center of one half of each apricot and press the halves back together.

Turn the dough into a lightly floured counter. Divide into 16 pieces of 50 grams each. Save the leftover dough for testing your oil temperature.
Shape the dough into balls and roll each ball into a disc approximately 10 cm in diameter (this will depend on the size of your apricots).
Place an apricot in the center of the disc, stem end up. Gather the dough up around the apricot and pinch it securely closed.

Place the shaped fritters on a parchment-lined baking sheet.
Proof, covered, for 2 hours.
Meanwhile, prepare the rum sauce: In a small saucepan, heat the brown sugar and butter over medium heat until the sugar is dissolved. Add the remaining ingredients and cook until slightly reduced and thickened, about 5 minutes.
Also meanwhile, pour oil into a deep skillet, to a depth of about 2 inches. Heat to about 360F, or until a small piece of dough rises to the surface immediately and browns in about one minute. (During the frying process, adjust the heat as needed to keep the oil at approximately this temperature.)
Fry the fritters in batches of about three or four. Turn them so both sides are fried to golden brown. This should take about two minutes per batch.
Drain on paper towels. Dust with powdered sugar.
Serve warm, drizzled with rum sauce.