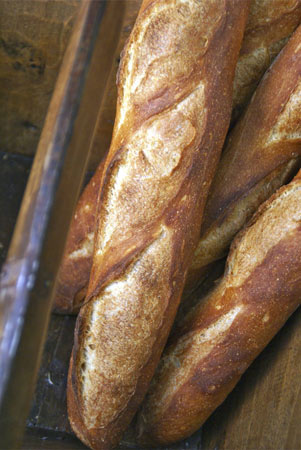 Do these baguettes look like award winners? Maybe not as I've made them, but their formula and execution by Sam Fromartz, author of the blog Chews Wise, recently earned Sam's loaves the title of best baguette in Washington D.C.
With that impressive credential behind it, I wanted to see for myself how Sam's baguettes compared to the poolish-based ones I usually bake. (I've never posted those on Wild Yeast, but it's the same formula as the poolish boule I guest-posted on Baking and Books a while ago.)
Sam's recipe contains small amounts of whole wheat flour and sourdough starter (along with some baker's yeast), and the final dough is fermented overnight in the refrigerator. I found the resulting flavor to be less sweet and a bit more assertive than a poolish baguette, without being overtly sour. Crisp crust, light interior, definitely a winner I will keep in my repertoire!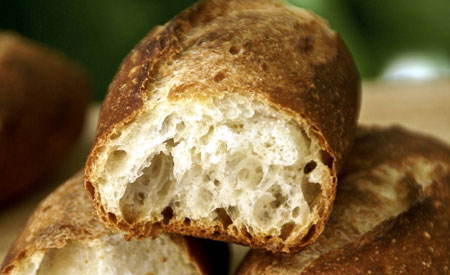 The recipe is clearly explained on Sam's blog, and I followed it to the letter, with one exception: I used only 1.5 teaspoons of instant yeast. (If you're using active dry yeast, I'd advise sticking with the 2 teaspoons specified by the recipe.)
Baguettes are probably the most difficult bread for a home baker. The shaping and scoring take a lot of practice, and this particular formula yields a fairly wet dough that makes it even more challenging. However, if you're experienced with baguettes, or if you're not but enjoy (as I do) jumping into the deep end of the pool, go make these baguettes.
Well done, Sam, and thanks for sharing your deservedly award-winning recipe with us.