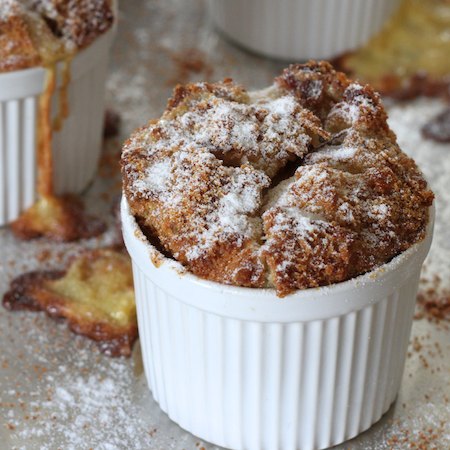 My daughter M lives in a place without a proper kitchen, and while this is not nice for her, it is great for me because it means I get to see her when she gets the (increasingly frequent) urge to cook or bake.
Last weekend M wanted to make Christmas cookies for her friends. I proposed an additional challenge: make brioche pudding with one of my extra lemon-anise snowflakes that was a little past its prime. She came through with flying colors!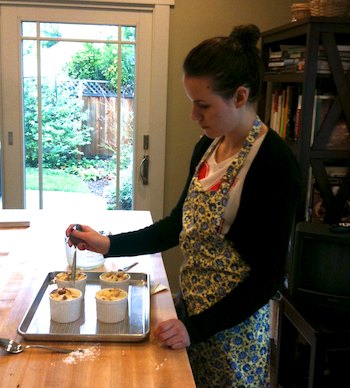 She found a brioche pudding recipe on Epicurious, and we modified it for individual servings. She cut the bread into half-inch cubes (leaving the crusts on, since they were soft)…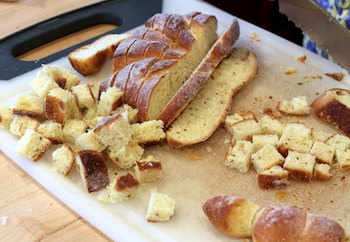 … loaded them into one-cup ramekins…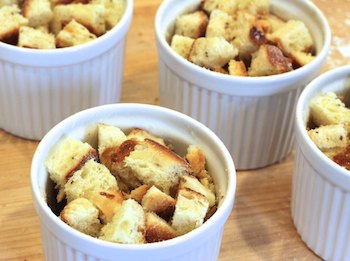 … and drowned them in custard.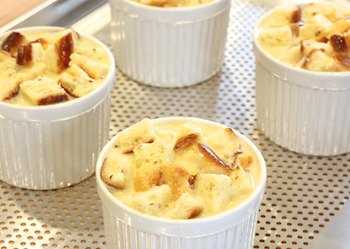 Luckily, we thought better of the perforated pan, because the puddings were very exuberant!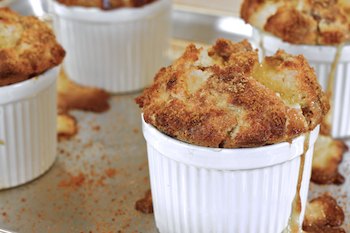 A dusting of sucre neige (non-melting powdered sugar), and… delicious!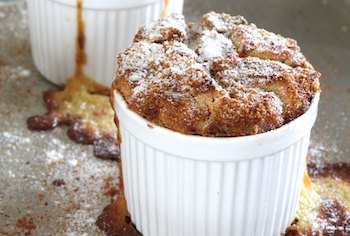 I'm a lucky mom.
Brioche Bread Pudding
(adapted from Epicurious)
Yield: 4 servings
Time:
mix and soak: 45 minutes
bake: 45 minutes
Ingredients:
225 grams stale brioche (including crusts), cut into 1/2-inch cubes
216 grams egg (4 large eggs)
240 grams (one cup) heavy whipping cream
240 grams (one cup) whole milk
200 grams (one cup) sugar
2 tablespoons amaretto
1.5 teaspoons vanilla extract
1/4 teaspoon almond extract
Method:
Butter four 8-ounce ramekins.
Reserve about 25 grams of the bread cubes. Divide the remaining cubes between the buttered ramekins.
In a medium bowl, whisk together the eggs, cream, milk, sugar, amaretto, vanilla, and almond extract.
Divide the custard between the four ramekins, pouring it over the bread cubes.
Wait several minutes, then use a spoon to push the bread down into the custard.
Place the ramekins on a sheet pan and let stand for 30 minutes, continuing to occasionally re-submerge the bread in the custard.
Meanwhile, preheat the oven to 325F convection (350F if convection is not available).
Place the reserved bread cubes on a sheet pan and put them in the oven for a few minutes until dry. Grind them in a food processor to make fine crumbs.
Just before baking, sprinkle the crumbs over the tops of the puddings.
Bake for 40 – 45 minutes, until the puddings are set and the tops are puffed.
Serve warm.