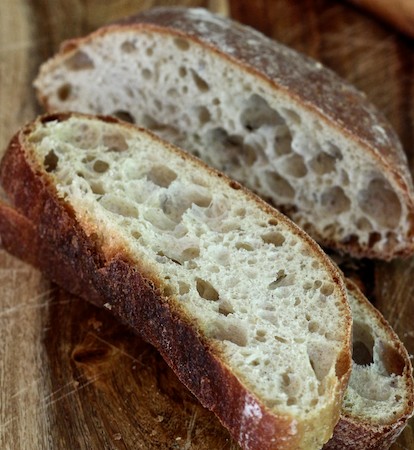 I suppose this bread is a study in how it is possible to lose sight of the preponderance of evidence and allow yourself to be led in a different direction by becoming fixated on a single detail.
Although this was a perfectly fine bread, it was surely not what Görel had in mind when she asked the Bread Baking Babes to undertake Brunkans Långa, the "long loaf" from the Brunkebergs Bageri (bakery) in Stockholm.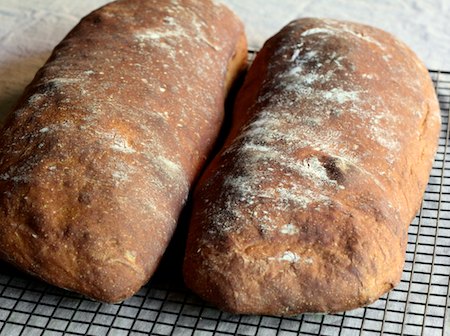 The evidence I had before me was this:
The recipe called for 600 grams of water, which would put the hydration of this dough at about 60%. Even considering the adjustments to hydration that the variability of flours often necessitates, a wet, slack dough is not what springs to mind when you think "60% hydration."
Görel, and some of the other Babes whose breads I was lucky enough to be able to see before I made mine, baked lovely cylindrical loaves with a pleasingly compact crumb. Again, you do not look at these loaves and think "wet dough."
According to Google translate, "brunkans" translates to "brown ham." Even if that's not the correct translation in this case (and ok, so it's not), this should have been a sign. In my experience, most hams have a roundish cross-section. We normally do not go out of our way to make our dough very wet if we want a roundish cross-section, now, do we?
According to the directions, two long loaves, each more than one kilogram, should fit comfortably in the oven. This means that each loaf would really have to keep its personal space to a minimum, and not think that it's entitled to go wandering promiscuously all over the baking stone, or even off the baking stone, like this:

In other words, loose doughs need not apply.
So that was the evidence, and to have considered it thoughtfully would have been to conclude that we really do not want to go adding a lot of extra water to this dough. Right?
And yet I, very consciously and deliberately, added an extra (not 20, not 50, not even 100, but) 165 grams of additional water to this dough. Which made this a 73%-hydration dough. That's getting into ciabatta territory.
And that is because, instead of considering the preponderance of evidence, I single-mindedly focused on one word — four tiny little letters — in the recipe, and that word was "pour." As in, "pour out the dough." I formulated my own fixed idea of what "pour" should mean, and I stuck to it stubbornly, despite the preponderance of evidence. So as I mixed, I ran a constant dialog with myself: "Can I pour this dough? No? Add more water then."
Consequently, I wound up in a very different place with this bread from where most of the other Babes (Görel, Lien, Natashya, Sara, Elizabeth, Elle, Astrid, Karen, Lynn, Tanna, Ilva) wound up. I think I'm lucky that it was not a bad place (in fact, it was quite a nice place; the bread tasted great), and even if it had been a bad place, it was just bread, after all.
But sometimes it's not just bread, so maybe it's good to remember that a more holistic view, which takes the preponderance of evidence into account, might be, in general, a good thing to shoot for.