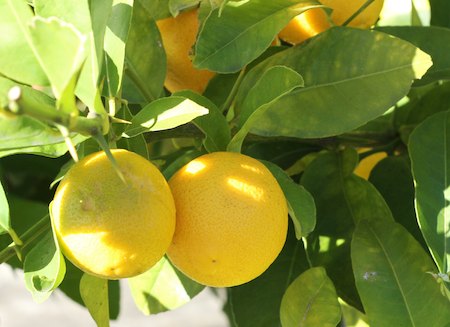 I have a lemon tree in my front yard. At least I now know that it is a lemon; when I moved in, the fruit was nothing more than tiny green nubbins, and because all citrus foliage and baby fruit are indistinguishable from all other citrus foliage and baby fruit, it was anybody's guess what I had. As they grew, I first thought they were limes because they were green and lime-shaped (see the logic there?), but then they rounded out and I was sure they were oranges.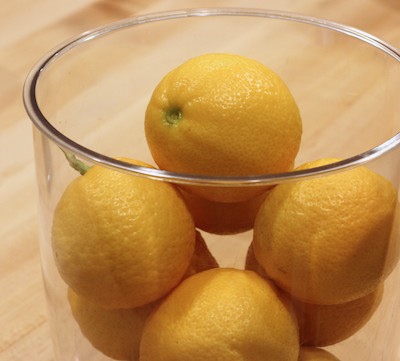 But damned if they didn't turn out to be lemons (very round lemons, but most definitely lemons), and this is a good thing, because it is hard to have too many lemons. I suspect that when the tangerines on my other front-yard tree ripen in a week or two, I will be thinking I have way too many tangerines. Even though I love tangerines, you can only use so many. But lemons are one thing you can never have enough of.
This is especially true this month, when 1) we have all that holiday baking that calls for candied peels, 2) the stores are probably sold out of it by now, and 3) the stuff you buy in the store is swimming in way too much syrup anyway. It's much better, and almost as easy, to make your own.
Some recipes direct you to cut away the peel's white pith; I have found this is not necessary. Keeping the pith means you get about twice as much yield, and it keeps the peel from becoming leathery. Blanching the peels several times takes away most of the pith's bitterness.
I think it is easiest to cut through the peel before tearing it away from the lemon, leaving the lemon whole. You can then whirl the whole peeled lemons in the food processor to release the juice, and strain the juice through a fine strainer (chinois) or cheesecloth. Ten medium lemons gave me about two cups of juice.
Make sure you save the syrup after the peels are done cooking. Stay tuned for how I used both the candied peels and the syrup.
Candied Lemon Peel
Yield: about 350 g of candied peel and 2.5 cups of lemon syrup
Time:
prepare and cook: about 2 hours
dry: overnight
Ingredients:
10 medium lemons
water for blanching
600 g (3 c.) sugar
460 g (2 c.) water
Method:
Score the lemon peel in quarters. Peel, leaving the lemons whole.

In a large saucepan, cover the peels with cold water. Bring to a boil, drain, and rinse the peels in cold water.
Cut the peels into strips (about four strips per quarter-lemon section).
Blanch the peel strips twice more.
In the large saucepan, combine the sugar and 460 g water. Bring to a boil over medium-high heat.
Add the lemon peels (make sure you lower them into the syrup; if you drop them in and the hot syrup splashes on your skin, you will be very sad). Reduce the heat and simmer until the peels are starting to become translucent, about 45 minutes.

Drain the peels, reserving the syrup.
Place the peels in a single layer on a wire rack and allow to dry overnight.

Store in an airtight container, or in the freezer. Store the syrup in the refrigerator.