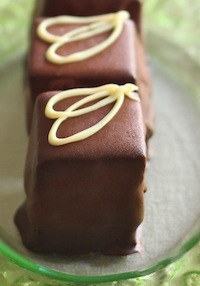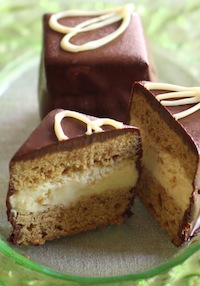 The August 2010 Daring Bakers' challenge was hosted by Elissa of 17 and Baking. For the first time, The Daring Bakers partnered with Sugar High Fridays for a co-event and Elissa was the gracious hostess of both. Using the theme of beurre noisette, or browned butter, Elissa chose to challenge Daring Bakers to make a pound cake to be used in either a Baked Alaska or in Ice Cream Petit Fours. The sources for Elissa's challenge were Gourmet magazine and David Lebovitz's The Perfect Scoop.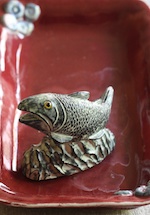 For the second month in a row, the Daring Bakers were challenged with ice cream and cake, and I am not complaining one bit. (The only drawback is that these things are very tricky to photograph when the weather is hot, as it has been this week. And I'm not altogether facile with my camera. Which means I resort to photographing things like a carved soapstone fish on a plate as a stand-in to figure out the appropriate camera settings, while the sweet and meltable things rest comfortably in the freezer until the last possible moment. This will give the archaeologists something to wonder about when they unearth my photo collection a thousand years hence.)
I made the browned butter pound cake exactly according to the challenge recipe, and it was just lovely. I would now like to put browned butter in and on everything: desserts, pasta, vegetables, my morning coffee. I would also like to make the pound cake again and eat it by itself, or in my morning coffee.
I chose to flavor my ice cream with the much-neglected — and rather controversial, culinarily speaking — part of those sweet cherries that have been in glorious abundance this summer: the pits. If you want to know why they're controversial, read Shuna's post about that on Eggbeater. If you decide not to chance it, vanilla is also very nice. If, on the other hand, you decide throw caution to the wind in order to experience the exquisite delicate flavor made possible by the decidedly not delicate smashing of those hard nuggets with a hammer to release the magic within, you'll also find the ice cream recipe on Eggbeater.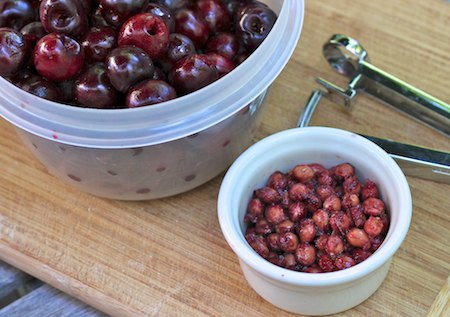 Some of the other Daring Bakers made baked Alaskas with their ice cream and cake, and some made petits fours. Some probably even made both. It's all good.