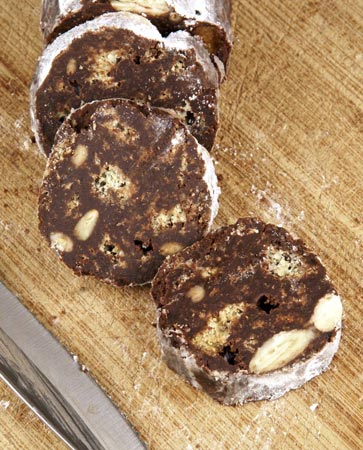 Have I mentioned that some of my favorite blogs are in French? Le Pétrin, Bombance, …au levain! and Makanai are some fantastic francophones that you must check out if you don't know them.
You don't speak French? No problem, neither do I, really. Oh, my high-school French serves in a pinch and yours probably does too, but why knock ourselves out when Google Translate is such an able servant? Thanks to this tireless polyglot-bot, a mouse click gets you the translation of any text or web page in any of 45 languages.
This came in very handy the other week when I spotted Sandra's dazzling and decadent chocolate salami and had to have it. Feeling lazy, I called upon our trusty GT to produce the English translation of the recipe, and commenced reading through the ingredient list:
200g dark chocolate 70%. Check. I actually had exactly this amount left over from my Christmas baking. Sitting untouched for over a week in my cupboard. I amaze myself sometimes.
100g butter. Check.
2 egg yolks, extra costs. I checked the fridge. Yes, my eggs were from Whole Foods, and those are more expensive than Safeway eggs. So I was good on the pricey egg yolks.
2 tablespoons Amaretto. Check. (In the end I only used one tbsp.)
2 pinches of dried chili flakes. Check.
8 grandchildren butter (80g). What?
Oh, I get it! Doing the math, I see that one grandchild is 10 grams, so grandchild must be the quaint French term for a pat of butter. And they must call a stick of butter a child of butter, and a kilo would be the grandparent of butter. Those French, so cute!
Just to be sure, I Googled "petits-beurre," the ingredient in Sandra's original French recipe. Oh. It's a kind of cookie. OK then. Google, will you please inform Google Translate of this? (And while you're at it, please tell GT that instructing me to pour water into a shop vacuum fried in the oven when baking MC's Couronne Nantucket is not likely to produce the desired result. Can we use some common sense here?)
So, butter cookies. I had none of those, petit or otherwise. I did, however, have some leftover panettone that I figured I'd slice up and stick in a low oven until bone-dry. It ended up working pretty well. Next time I might include real grandchildren, just to see how that affects the flavor profile.
7 biscuits (40g). I didn't have any biscuits either. Plenty of panettone, though.
A mixture of 40g blanched almonds, hazelnuts, pine nuts. Check, except for the hazelnuts. And why not use 40g each of almonds and pine nuts, just because?
1-2 tbsp icing sugar for coating. Check.
Sandra can tell you how to turn all this stuff into a salami. I'll just be here making sure no one tries to make my kids into sausage, and saving up to buy more eggs.