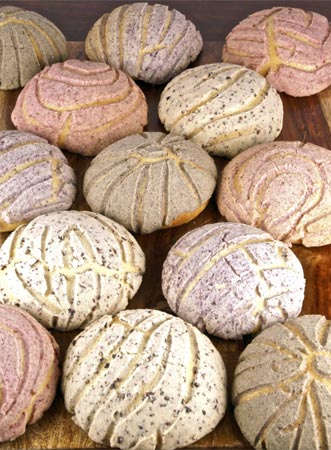 Walk into any Mexican panadería, and there are plenty of them around here, and I guarantee your eye will be caught by a colorful array of conchas. This sweet roll, whose name derives from its sugar-paste topping scored to resemble a shell, is the most visually fun, and maybe the best-known, pan dulce of all.
You might notice that the colors of my conchas are more muted than those you often see. Not being a big fan of food coloring, I experimented with more natural ways of coloring the topping. I used (clockwise from upper left) coarsely ground cacao nibs, dehydrated raspberries and blueberries (finely ground in a spice mill along with a bit of granulated sugar to keep them from clumping), and acai berry powder: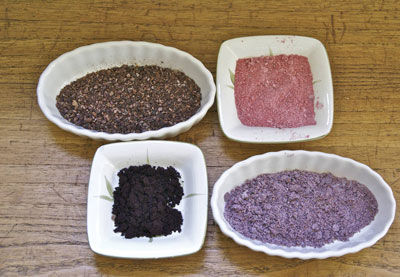 This is how the corresponding finished conchas looked: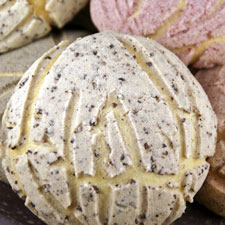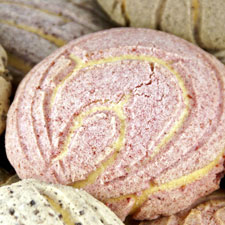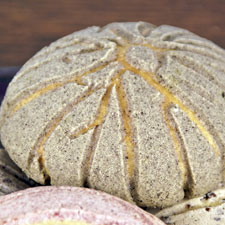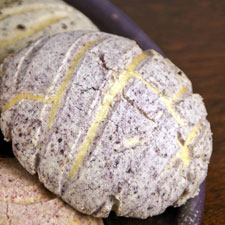 I adapted a recipe in The Art of Mexican Cooking by Diana Kennedy, with a few modifications in addition to the colors. I had to guess at the amount of yeast in the final dough, since the recipe didn't list any. I knew that must be an error, since the amount of yeast in the sponge alone is surely not enough to raise such a sweet dough. I also increased the amount of butter in the topping, which I needed to get it to hold together as a paste. I used the mixing method specified in the recipe, in which the bulk of the sugar is added from the beginning, but if I make these again I'll add the sugar more gradually to allow for better gluten development.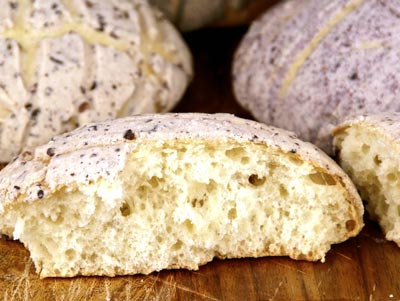 All in all, though, I'm happy with my first crop of conchas, which I'm delighted to send to Gretchen Noelle (Canela y Comino) and Zorra (1x umrühren bitte), for Bread Baking Day #27, Latin Breads.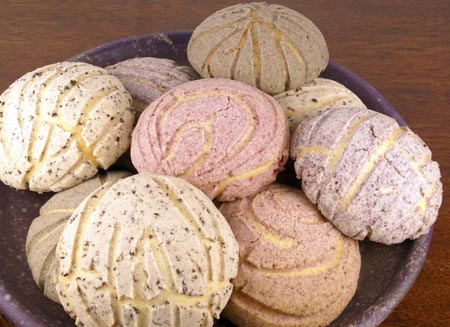 Conchas
Yield: 16 rolls
Time:
Mix and ferment sponge: 2 hours
Mix final dough: 10 minutes
First fermentation : 30 minutes, then 8 – 16 hours in the refrigerator
Divide and shape: 20 minutes
Proof: 3 hours
Bake: 20 minutes
Sponge Ingredients:
Final Dough Ingredients:
450 g flour
180 g sugar
3 g (1/2 t. salt)
45 g unsalted butter, softened
220 g egg
57 g warm water
7 g instant yeast
all of the sponge
Topping Ingredients:
114 g all-purpose flour
114 g powdered sugar
91 g unsalted butter, at room temperature
Colors/flavors as desired. The original recipe specifies, 2 T. cocoa powder for half, and 1 T. cinnamon for the other half. I divided the dough in quarters and used 1 T. coarsely ground cacao nibs, 3 g dehydrated raspberries, 3 g dehydrated blueberries (both berries finely ground in a spice mill with a bit of granulated sugar), and 1.5 t. acai powder.
Method:
In a medium, combine the sponge ingredients and mix until well incorporated. Cover and ferment until double in bulk, about 1.5 hours.
In the bowl of a stand mixer with a dough hook, combine all of the final dough ingredients except 60 g of the sugar. Mix on medium-high speed (I used Kitchen Aid mixer speed 5) for 5 minutes.
Add the remaining sugar and continue to mix for another 3 minutes, until the dough more or less holds together around the dough hook. It should be soft and sticky and shiny.
Using a little flour around the sides of the bowl to help loosen the dough, turn the dough into a lightly buttered container. Cover and ferment in a warm place for 30 minutes, then place in the refrigerator overnight (8 – 16 hours).
Before removing the dough from the refrigerator, prepare the topping. Sift flour and powdered sugar together, then cut the butter into the mixture and work it together into a paste with your fingers. Divide the paste and add the colorings.
Turn the main dough into a lightly floured counter. Divide it into 16 pieces of approximately 60 grams each.
Shape each piece into a ball by cupping your hand over it loosely and rolling it around on the counter. Place the balls on two large parchment-lined baking sheets.
Divide the topping paste into 16 balls. Press each ball out into a 3-inch disc and place it on top of a ball of dough, using the palm of your hand to flatten it out a little.
Using the tip of a sharp knife, score through the topping paste in a shell pattern. (Don't worry if the topping disc cracks at this point, or during baking; this is characteristic of conchas.)

Proof  in a warm place, uncovered, until they have increased in volume by about 50%, about 3 hours.
Meanwhile, preheat the oven, with racks on the middle and top thirds, to 375F.
Bake for the conchas for about 20 minutes, swapping the positions of the pans at about 12 minutes to ensure even baking. The topping should feel set and the rolls underneath should be slightly browned.
Cool on a wire rack.