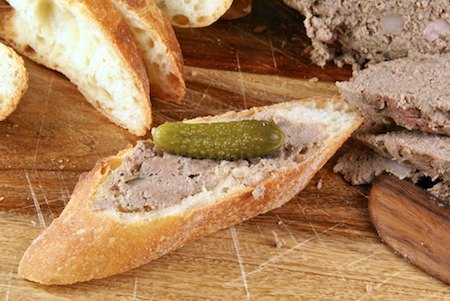 Daring Cooks strike again! Our hostesses this month, Evelyne of Cheap Ethnic Eatz, and Valerie of The Chocolate Bunny, chose delicious pate with freshly baked bread as their June Daring Cooks challenge. They've provided us with four different pate recipes to choose from and are allowing us to go wild with our homemade bread choice.
Okay, I can't say I went exactly wild with the bread choice, but in my opinion there is no better complement to liver pâté than a simple baguette. Made from pâte de baguette (baguette dough), of course.

And wow, who knew that liver pâté was so easy to make at home? I would like to try the other challenge recipes soon, too — Chicken Liver Terrine, Tricolor Vegetable Pâté, and Trout and Shrimp Pâté — but I really liked the one I chose: Three Spice Liver Pâté.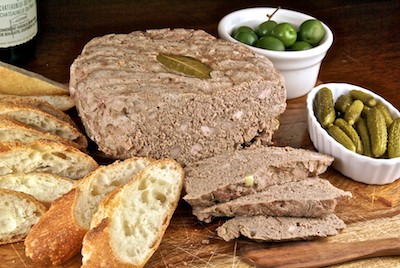 The three spices are coriander, cumin, and cinnamon, although I'd count the cracked peppercorns as a spice too. What a delicious combination of flavors with the liver. I think I would increase the dosing of the spices a bit next time, though. The recipe called for pork or beef liver, and since I didn't find pork, beef it was. I'd also like to try it with chicken liver to see if I could get a richer, creamier texture.
If you make this, be aware that the baking time may be significantly longer than stated in the recipe. I used a probe thermometer to gauge the internal temperature, and it took about 2.5 hours (the recipe stated 1 – 1.5 hours) to reach 160F, which seems to be about standard for meat pâtés. Also, the recipe as given yields a lot of pâté. (Two of us ate about a third of it over two or three meals, and I froze the rest in three portions. It has yet to be seen whether it actually freezes well.)
The raw pâté, and the bacon-lined dish I scooped it into: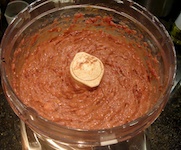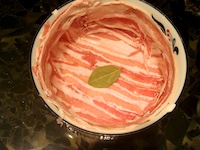 The pâté completely encased in bacon, before and after baking: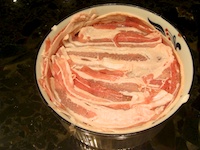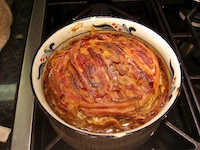 You will find all the pâté recipes for this month's challenge here. Next go check out how the other Daring Cooks have put them together. Then go try one for yourself. And don't forget the pâte de baguette.