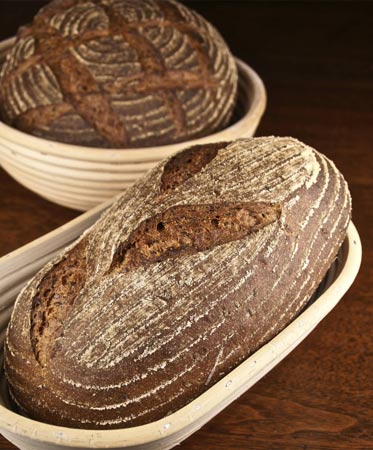 My husband is a very patient person. He puts up with a lot in support of my baking hobby (even considering that he's a happy beneficiary of it). A fine (or sometimes more than fine) dusting of flour over pretty much the whole house, equipment overflowing the cupboards and stacked on the floor and every available surface, books that leave no shelf space for so much as a phone directory — none of this elicits even the bat of an eye from this man.
So when he casually and calmly mentioned one day recently that my ingredients were overrunning the refrigerator, I paid attention. Time to spend down some of that baking capital: seeds, nuts, more seeds I bought because I forgot I had the first ones, grains, and special flours that have insidiously taken over way more than their fair share of fridge and freezer real estate.
Starting with the flax seeds. Flax seeds are delicious and nutritious and crunchy and beautiful, which clearly explains why I felt I had to buy about 2 or 3 pounds last time I stocked up. (This is maybe 7 cups of seeds — which is a pretty sizable helping of those healthy omega-3 fatty acids.
This flaxseed rye, adapted from Jeffrey Hamelman's Bread: A Baker's Book of Techniques and Recipes, was a really great way to use some of those seeds, as well as some of the high-gluten flour that is also in abundance at my house right now. Even though I used whole rye flour in place of the original recipe's medium rye (I'm not allowed to buy more ingredients!), the texture was amazingly un-dense for a 60%-rye bread, and the flavor combination of flaxseeds and rye is just about unbeatable. I may even increase the flax seeds next time I make this (because I do still have plenty of those seeds left).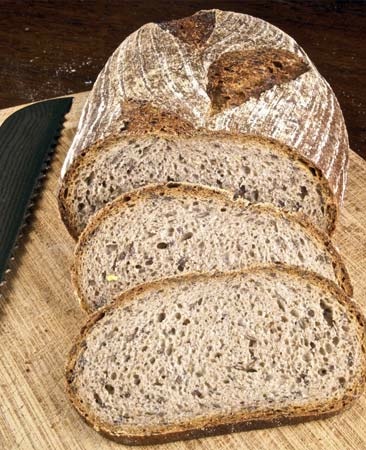 One thing that helps with maintaining a more-or-less round cross-section of an oblong rye loaf is to keep the slashes running more across the loaf than down its long axis, which is something I didn't do here. For some examples of better scoring patterns, as well as some notes on working with rye doughs, take a look at my 47% Rye Bread.
The recipe calls for a rye starter. I don't normally maintain one, so when I need one I take a portion of my 100%-hydration white starter and simply feed it with rye instead of white flour over a few feedings. No doubt some purists would slap my hand for not keeping a long-term rye starter, but I'm not losing any sleep over it.
Flaxseed Rye
(adapted from Bread: A Baker's Book of Techniques and Recipes by Jeffrey Hamelman)

Yield: 1700 g (2 loaves)
Time:
Build sourdough: 16 hours
Soak soaker: the same 16 hours
Mix final dough: 10 minutes
First fermentation : 45 minutes
Preshape, rest, and shape: 15 minutes
Proof: 1 hour
Bake: 65 minutes
Desired dough temperature: 80F
Flaxseed Soaker Ingredients:
91 g whole flax seeds
273 g water
Rye Sourdough Ingredients:
364 g whole rye flour
290 g water
17 g rye starter
Final Dough Ingredients:
182 g whole rye flour
364 g high gluten flour (such as King Arthur's Sir Lancelot)
119 g water
4.5 g (1.5 t.) instant yeast
17 g (generous tablespoon) salt
All of the rye sourdough
All of the flaxseed soaker
Method:
To make the rye sourdough, mix the starter and water, then add the rye flour and mix well. Cover and ferment for 16 hours at room temperature.
Make the soaker at the same time you build the sourdough. Combine the flaxseeds and water, cover, and let rest for 16 hours.
Combine the fermented sourdough, soaker, and the rest of the final dough ingredients in the bowl of a mixer with dough hook. Mix in low speed to incorporate all the ingredients, about 3 minutes. Adjust the water as needed to achieve a medium consistency dough.
Continue mixing in medium speed until the dough starts to hold together, which will indicate the gluten is developing. If you can get a windowpane, it will be a very crude one. This might take about 3 minutes, but will depend on your mixer. The dough will be very sticky.
Transfer the dough to a lightly oiled container. Cover and ferment for 45 minutes at 80F. (I roughly achieved this temperature by placing it into a large plastic bag with a cup of hot water.)
Turn the dough into a lightly floured counter and divide it into two pieces. (My pieces were 730 grams for the batard and 930 for the round.) Preshape into balls and let rest, covered, for 10 minutes.
Shape the dough into tight rounds or batards and place them, seam-side-up, into well-floured brotforms or linen-lined baskets.
Proof, covered, for about one hour at 80F. The loaves are proofed when the surface shows the faintest hint of "cracking."
Meanwhile, preheat the oven, with baking stone, to 460F. You will also need steam during the initial phase of baking, so prepare for this now.
Just before baking, slash the loaves as you like, at a 90-degree angle to the surface of the loaf.
Bake at 460F with steam for 15 minutes, then without steam at 440F for another 35–45 minutes, until the crust is a deep brown. Then turn off the oven and leave the loaves in for another 10 minutes, with the door ajar, to let the loaves dry.
Cool on a wire rack, then cover with linen for several hours before cutting.