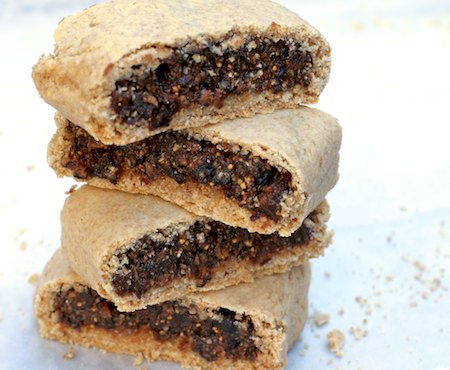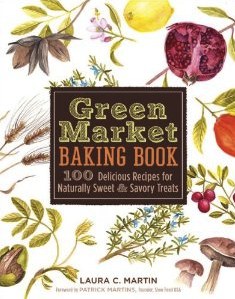 The Green Market Baking Book : 100 Delicious Recipes for Naturally Sweet & Savory Treats by Laura C. Martin is premised on the idea that baking with fresh, seasonal ingredients, and without refined sugar, is better for both our bodies and our planet. If you like that idea, you'll like this book.
The majority of the recipes are treats of the sweet variety (cakes, pies, cookies, puddings, muffins, etc.). All are made with one or more "natural sweeteners" such as honey, maple syrup, brown rice syrup, and barley malt syrup. The book includes a section on substituting these ingredients for refined sugar in your own recipes. Whether or not you believe (and I'm not sure I do) Martin's assertion that these sweeteners are more healthful than sugar, you may still wish to "support the small producers of alternative sweeteners — the honeybee keepers, the maple syrup farmers, and so on."
The recipes — some Martin's own, but many contributed by bakers and chefs around the country — are grouped by season, and most, though not all, feature fresh produce. Some are designated as low-fat, gluten-free, or dairy-free, and many contain a good proportion of whole grain flours and/or heart-healthier fats such as olive oil.
For me, though, what any baking book that focuses primarily on desserts comes down to is not whether the recipes are healthful, because I'm not going to go looking to dessert to fill my nutritional dance card. What it comes down to is do the recipes work, and do they taste good? The answer here, as far as I can tell, is yes they do (mostly).
My main disappointment with the book is that it contains no photographs, which I always appreciate both to inspire me and to gauge the target I'm shooting for. Also, there are some inconsistencies in style and terminology that are sometimes confusing (does barley malt mean the same thing as barley malt syrup?).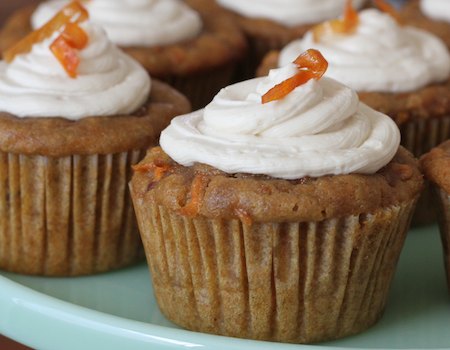 I have tried three recipes so far. Spelt Scones, sweetened with barley malt and maple syrups, were earthy and good with the addition of dried blueberries. Spring Carrot Teacakes with Maple Cream Cheese Frosting were also tasty and pretty, but I found a few problems with the recipe (incorrect yield and baking time).
Honey Fig Bars (top photo, and recipe below) were a hit with everyone I fed them to. Although I was skeptical about the high filling-to-dough ratio, it really worked and yielded a moist, not-too-sweet bar that I'd have to say is superior to my favorite Newton.
Other recipes on my to-bake list include Fennel and Mushroom Pie, Plum and Walnut Upside-Down Cake, and Goat Cheese and Green Garlic Flan.
Sound appealing? Enter to win a copy of the book! Leave a comment on this post before 11:59 PM (PDT) on Friday, May 6 and I'll choose a winner at random. (I regret that I must limit this to US addresses.)
Honey Fig Bars
National Honey Board
Makes 16 bars
1 1/4 cups honey, divided
1/2 cup butter, at room temperature
1 egg
1 cup all-purpose flour
2 cups whole wheat flour
1 teaspoon baking powder
1/2 teaspoon baking soda
1 pound dried figs (about 2 1/4 cups, chopped)
2 tablespoons lemon juice
2 teaspoons lemon zest
1/2 cup chopped pecans or walnuts (optional)
In a medium bowl, cream 3/4 cup of the honey with the butter until light and fluffy. Beat in the egg.
Add the flour, baking powder, and baking soda and combine. Wrap the dough in plastic wrap and refrigerate it for about 2hours, until firm (or overnight).
Meanwhile, in the bowl of a food processor with a metal blade, combine the remaining 1/2 cup of honey, the figs, lemon juice, lemon zest, and chopped nuts (if using). Process until the figs are finely chopped. Set aside.
When the dough is well chilled, dust a work surface and the dough with some flour. Working quickly, roll the dough to 1/4 inch thick. With a sharp knife, trim the dough into two 14×6-inch rectangles. Dough trimmings can be used to make cutout cookies.
Spread half the fig mixture evenly down the center of one dough rectangle. Gently fold the right side of the rectangle over the filling, then fold the left side over the right so they overlap. Pinch the ends to seal. Repeat with the remaining rectangle and the fig mixture. Carefully place the dough logs seam-side down on a greased baking sheet.
Bake at 350?F for about 15 minutes, or until the logs are lightly browned. Remove the cookie sheet from the oven, allowing the logs to cool for 5 minutes on the sheet. Transfer the cookies to a wire rack to cool completely. Cut into 3-inch bars. [Susan's note: I cut each log into 12 bars, so they were smaller than 3 inches, but still quite a large cookie.]
Reprinted with permission from Green Market Baking Book © 2011 by Laura C. Martin, Sterling Publishing Co., Inc.
Full disclosure: The publisher provided me with review and giveaway copies of the book. I did not receive additional compensation. Opinions are fully mine.