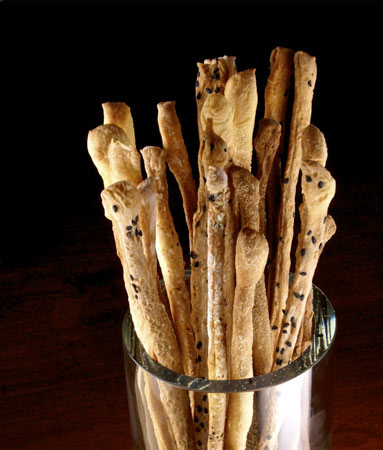 As far as I'm concerned, there is no more perfect party food than grissini. A bouquet of these thin bread sticks looks beautiful and never fails to draw a crowd. They're crunchy and savory and can be picked up and eaten with one hand.
But let's face it, if you have to roll several dozen of these things individually you may be arriving a little late to your own party. It's not that I don't love hands-on time with my dough, but sometimes just a little more efficiency is in order.
In her book The Italian Baker, Carol Field describes how Italian bakers do it, by simply stretching the elastic dough with the hands. For me, this was not only faster but produced wonderfully rustic, knobby-ended grissini. (Do you know me? I am nothing if not a fan of rusticity!)
I love my grissini thin thin thin. If you prefer something a little plumper, roll the dough into a 6 x 4-inch (rather than 12 x 4) rectangle, and cut it into only 8 pieces rather than 16.
This sourdough recipe is very flavorful (and makes nice pizza as well), but yeasted grissini are great too!
Sourdough Grissini
Yield: 24 – 48 grissini
Time:
Mix: 10 minutes
First fermentation : 2 hours with a fold at 40 and 80 minutes
Shape: less than 5 minutes per batch of 16
Proof: 20 – 30 minutes
Bake: 30 minutes per batch
Final Dough Ingredients:
340 g flour
200 g water
9 g (1.5 t.) salt
23 g olive oil
228 g mature 100%-hydration sourdough starter
Topping Suggestions:
coarse semolina
sesame seeds
Method:
Combine all of the final dough ingredients in a medium mixing bowl. Mix with your hands to roughly combine the ingredients.
Turn the dough out onto an unfloured counter. Adjust the water to produce a medium-soft dough. Continue mixing by hand until the gluten reaches a low level of development. This might take about 5 minutes.
Transfer the dough to a lightly oiled container. Cover and ferment for 2 hours, with folds after 40 and 80 minutes.
Divide the dough into 3 pieces. While working with one piece, keep the others covered so they don't dry out.
On a well-floured counter, pat the dough into a rectangle of roughly 12 x 4 (or 6 x 4) inches.
Brush the dough with olive oil and sprinkle with your choice of topping.
With a pizza cutter or chef's knife, cut the dough into 16 (or 8) strips.

Line a baking sheet with parchment paper.
Pick up each strip of dough at the ends and gently stretch it to the length of the baking sheet. All 16 grissini should just fit on a 14-inch wide baking sheet.

Preheat the oven to 350F.
After shaping, let the grissini rest while the oven is heating or while the prior batch is baking.
Bake for 25 – 30 minutes (a little longer for fatter grissini), until well brown and very crisp.
Cool on a wire rack.